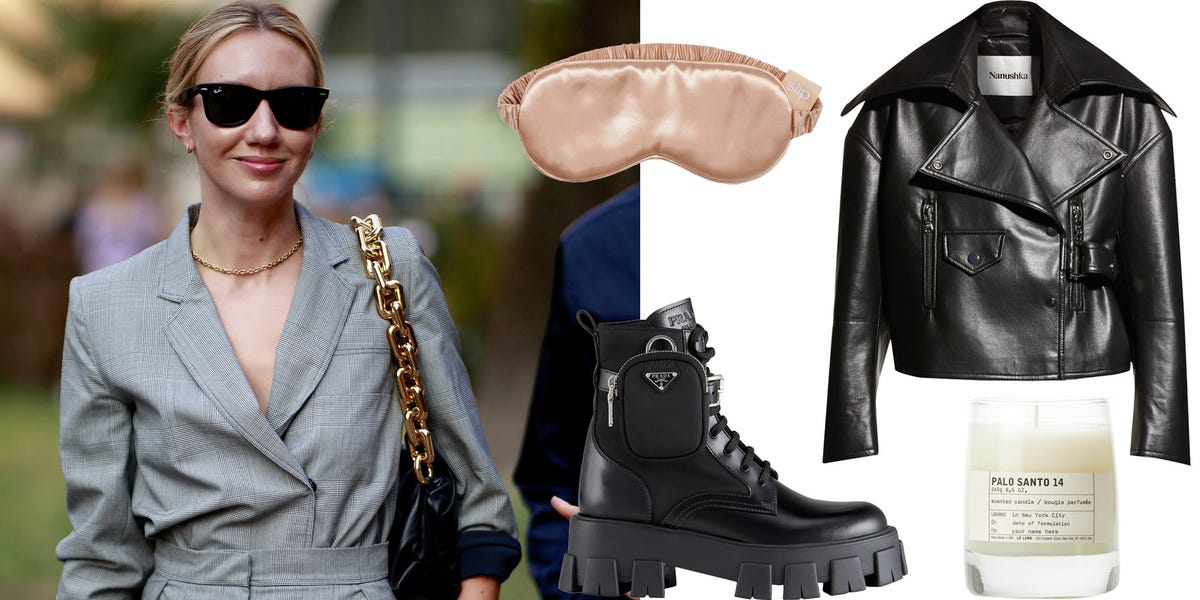 13 of Neiman Marcus Fashion Director Lisa Aiken's Favorite Things
Imaxtree Lisa Aiken is a true fashion world insider. Her résumé is filled with the
Lisa Aiken is a true fashion world insider. Her résumé is filled with the biggest names in shopping—the latest being Neiman Marcus, where Aiken recently took the reins as fashion and lifestyle director.
Aiken's personal style philosophy is all about precision, shaped in part by her many roles as a professional tastemaker. "I am a very considered shopper, but my job is also research so I essentially know six months ahead what I will want next season," Aiken explains. "If I am still thinking about that piece when it delivers, then clearly it's for me."
Sometimes that considered purchase is a timeless Bottega Veneta handbag; other times, it's a bold leopard print Marc Jacobs dress courtesy of a 2011 runway. No matter what's on Aiken's shopping list, she looks for pieces she'll still love five or ten years from now. "It's true what people say about your thirties being when you truly discover your style and feel comfortable and confident in it," Aiken adds. "I now know what suits me and what will have longevity in my wardrobe."
Our shopping habits could use a dose of Aiken's forward-looking philosophy. Ahead, see (and shop) the Lucky 13 items Lisa Aiken will always use, from the perfect Uniqlo t-shirt to the Khaite bodysuit she packed for Paris Fashion Week.
Advertisement – Continue Reading Below
Lili Draped Off-the-Shoulder Bodysuit
"I have this in my suitcase with me to go to Paris Fashion Week. It's the ultimate day-to-night top, and with shows, in-person meetings, and socializing back on the agenda, versatility is a top priority. One need only add a statement necklace and a slick of eyeliner."
The Point Triangle Bag
"Most of my recent shoe and handbag purchases have been Bottega Veneta. I love the 'Cloud' pouch (I own in small and large) but the top handle here makes this so much more functional. Best of both."
Megaboom Wireless Speaker
"I love listening to music everywhere, and this wireless speaker is perfect for the apartment, or to throw in a handbag for a picnic or my suitcase when traveling. This one is waterproof—so great for the pool or in the shower."
Annual Subscription
"The best online yoga classes I have found, and a must if you struggle to keep to a class schedule."
DRx SpectraLite™ FaceWare Pro
Dr. Dennis Gross Skincare
"I read about red light treatment and various options on the market extensively before investing in this mask from Dr. Gross. You have to be consistent, but when using every day it makes a notable difference."
Crew Neck Short-Sleeve Shirt
"I believe investment fashion is the emotional pieces that you will love for years to come, so my basics tend to come from Uniqlo, where I know the quality is very good at a good price. And they happen to have created the perfect white tee: slim(ish) fit, shorter sleeves, slightly heavier cotton."
Togo Sofa Without Arms
"I have committed to my New York apartment for another year. I think this sofa may have to be my next big purchase."
Lotion P50 Exfoliating Toner
"I was sat with a beauty director for lunch a few years ago, and she insisted (very passionately) that adding P50 to my skincare regime was an absolute must. How happy I am that I followed her advice. Miracle product. There is a reason the formula hasn't changed since 1970…it works!"
Palo Santo 14 Candle
"With everything that has happened in the past year, I have definitely learned to appreciate the small things, even burning a delicious candle made an evening in feel cozy and almost indulgent."
Marble Glass Vase
"Another one of the little luxuries I have enjoyed of late is fresh flowers chosen at New York's Chelsea Flower Market early morning as deliveries come in. This Colville vase is perfect to display a bold mix of wild flowers."
Leather Zip Pocket Combat Booties
"Perfect for winter in New York."
Silk Sleepmask
"The best night's sleep. And prevents wrinkles. Win-win."
Ado Leather Jacket
"Because one leather jacket just isn't enough, every wardrobe needs a blazer, biker, trench, and wrap…"
This content is created and maintained by a third party, and imported onto this page to help users provide their email addresses. You may be able to find more information about this and similar content at piano.io
Advertisement – Continue Reading Below
https://www.harpersbazaar.com/fashion/trends/g37754389/lisa-aiken-neiman-marcus-personal-style/