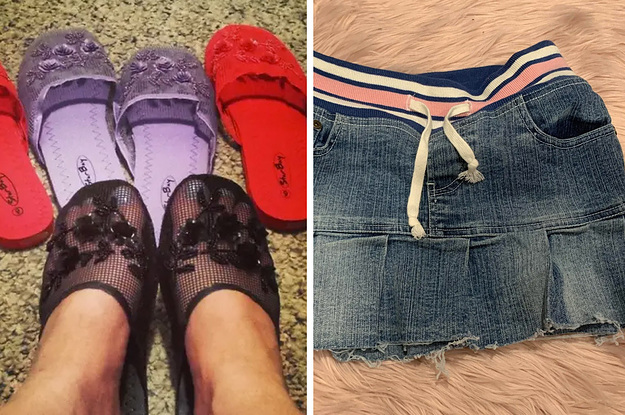 2000s And 90s Fashion Trends And Clothing Essentials
Style · Posted 4 hours ago Cropped tights under long tops or miniskirts were basically
Cropped tights under long tops or miniskirts were basically a religion.
2.
Ed Hardy anything — including fake Ed Hardy if your pocket money didn't cover the real deal.
3.
Von Dutch trucker hats that you were sure went with any and every outfit.
4.
Or honestly, any trucker hat.
5.
A Country Road duffel bag — or in a pinch, a Sportsgirl version — that was definitely too big for all of your belongings.
6.
Dunlop Volleys that may or may not have been the start of your burgeoning sneaker collection.
7.
Converse high-tops were also on heavy rotation.
8.
So were Kmart or Big W canvas shoes that you'd have in white, grey and black versions.
9.
A pair of white slip-on Rabens was a class favourite at around the same time.
10.
Ra-ra mini skirts that were a feat of flouncy engineering.
11.
You probably also had the same ra-ra silhouette in a denim version.
12.
Novelty and print tees from Jay Jays were a staple.
13.
Low riding bootcut jeans were, for a period of time, the only style of jeans you deigned to leave the house in.
14.
Spaghetti strap tank tops from Supré that came in just about every colour available — so you could colour coordinate all of your outfits.
15.
Super long tops — or super short dresses — over jeans.
16.
Embellished mesh slides that coyly showed off your pedi.
17.
A surf brand backpack that was so much better than the official backpacks your school uniform shop sold.
18.
This wrap around bowtie belt that was paired with every last dress in your wardrobe.
19.
Or wide, stretchy fabric belts because you couldn't leave the house without this essential, outfit-completing accessory.
20.
Kitten heels that you were sure were more comfortable and practical than fully-fledged stilettos.
21.
Any kind of shawl or cape that you were convinced was so much cuter than a jacket.
22.
Super short denim shorts that you lived in all summer long.
23.
Fluoro statement slogan tees and tanks that, in hindsight, didn't make any kind of statement except that you were a Supré loyalist.
24.
Any accessory that had a vaguely Louis Vuitton inspired print — including knockoff bags from overseas.
25.
Boob tubes that were always part of a two for $20 deal at Supré.
26.
Three-quarter leggings that you wore under everything.
27.
Jeggings when bootcut jeans and tights under skirts were officially deemed irrelevant.
28.
Bow headbands from Supré that you added to your haul when you went to pay.
29.
Thongs — and especially Havaianas — weren't reserved for the beach or pool.
30.
Anything from Paul Frank was an exciting addition to your wardrobe.
31.
And finally, reusable Supré bags that were used exclusively for toting around your P.E. uniform.
Did we miss any of your fashion faves? Let us know in the comments below!

https://www.buzzfeed.com/louisegong/31-millennial-fashion-staples-you-definitely-owned