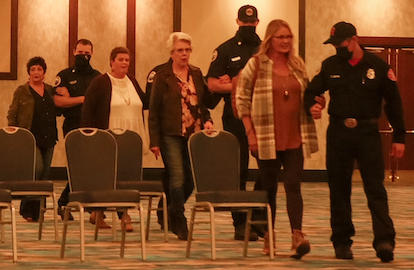 21st Annual Tea and Fashion Show Brunch raises funds for cancer services | Health
CANYONVILLE — Douglas County Cancer Services hosted its 21st Annual Tea and Fashion Show Sunday
CANYONVILLE — Douglas County Cancer Services hosted its 21st Annual Tea and Fashion Show Sunday at Seven Feathers Casino Resort to benefit services for cancer patients.
Douglas County Cancer Services Board Chairperson Sharon Carlson said the event sold out this year, with 400 tickets sold.
"We had a great turnout, and right now I'm actually just going through the evaluation surveys that we had at the table for people to fill out and overwhelmingly people were saying it was a wonderful event," she said.
DCCS is a nonprofit organization with an office at the Community Cancer Center, though it is a separate organization. It provides free wigs, hats and prosthetics to cancer patients, as well as financial aid ranging from travel expenses for accessing treatment to helping pay the bills or buy needed groceries and household items.
The annual brunch raises funds for that aid, as well as raising awareness of breast cancer during October, which is Breast Cancer Awareness Month.
The fashion show featured four models, each of whom is a breast cancer survivor. One has been cancer-free for 33 years, while another is currently undergoing treatment.
"Their cancer stories were very overwhelming, and they did an awesome job," Carlson said.
She said in their biographies, the models said it was the support of families and friends, along with faith that got them through the illness.
"They really encouraged the audience, all of them, to listen to your body, do your self exam, breast exams and listen to your bodies and go in and get checked as soon as you notice something is not right," she said.
Maurice's provided two outfits to each of the models.
Hair and makeup were done by professional beauticians and makeup artists from Solace Salon & Spa, and each model was treated to time in the spa at Seven Feathers and to a spray tan by Makena Beach Tan & Boutique.
The show included hula dancers from Aulani Hula Halau, and firefighters from Roseburg Fire Department Local 1110 and Douglas County Fire District No. 2 Local 2091 danced with them.
The national anthem was sung by breast cancer survivors Kendra Dunning and Darla Standley, and "sent chills through everyone in the audience," Carlson said.
The firefighters also posed for calendars sold at the event.
The proceeds from the calendars will be split between Douglas County Cancer Services and the Treven Anspach Memorial Scholarship Fund, named for one of the survivors of the 2015 Umpqua Community College shooting.
A silent auction and sponsorships, along with ticket sales also contributed to the DCCS fundraising. Nine donated quilts were raffled off as well.
"Douglas County Cancer Services thanks everyone for their support and their donations to our organization," Carlson said.
https://www.nrtoday.com/news/health/21st-annual-tea-and-fashion-show-brunch-raises-funds-for-cancer-services/article_bdb142e3-25b8-5139-b268-6117fc29d767.html