david adjaye will design exhibition 'jean-michel basquiat: king pleasure'
jean-michel basquiat: king pleasure   the family of jean-michel basquiat announces sir david adjaye as
jean-michel basquiat: king pleasure
the family of jean-michel basquiat announces sir david adjaye as exhibition designer for jean-michel basquiat: king pleasure in new york. the show will feature over 200 never-before and rarely seen works, including paintings, drawings, ephemera, and artifacts. the collection will create an intimate portrait of the artist that can only be told by his family.
jean-michel basquiat: king pleasure will become a place where the artist's family can celebrate him and share his work and story. jean-michel basquiat: king pleasure© is curated and executive produced solely by the estate.the family has also shared the themes and environments that will make up the exhibition, each of which will have works, artifacts, and a dedicated soundtrack. the exhibition will open on april 9th, 2022 at the landmark starrett-lehigh building in chelsea.

jean-michel basquiat, jailbirds, 1983 | © the estate of jean-michel basquiat
exhibition designer, sir david adjaye
sir david adjaye comments on the exhibition, jean-michel basquiat: king pleasure: 'the vision for this project — to reclaim the narrative of basquiat's life and work and to shed new light on an artist that is only partially understood — aligns deeply with my studio's mission of using design as a storytelling device. I envision the exhibition as an intimate narrative journey that not only displays his trailblazing career but cultivates his spirit and mission through the eyes and insights of his own family.'
stay tuned for future coverage on the exhibition following its opening in april 2022.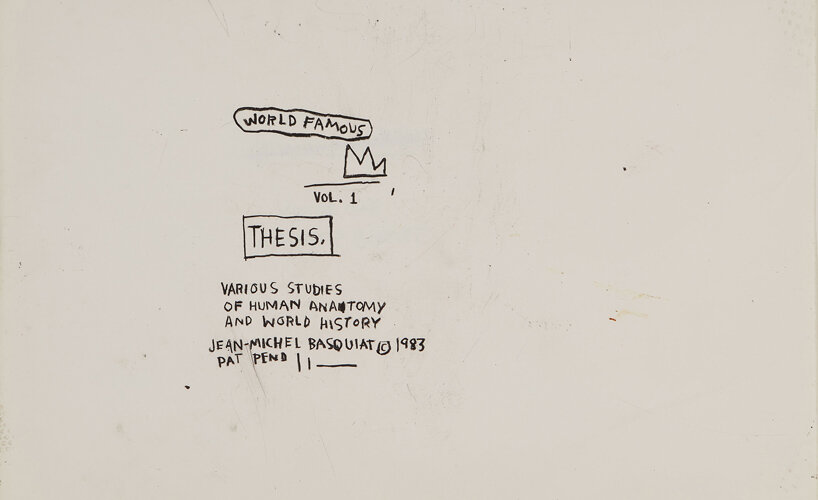 jean-michel basquiat, untitled (world famous vol. 1. thesis), 1983 | © the estate of jean-michel basquiat
the exhibition team explains the show's namesake: 'king pleasure is the title of a painting created by jean-michel in 1987 and the name of a bebop-loving bartender turned jazz vocalist whose first hit, in 1952, 'moody's mood for love,' catapulted him to fame. the song was a favorite of the wbls dj frankie crocker, who played it at the close of his show every night in the 1970s. gerard basquiat, jean-michel's father, was also fond of the tune.'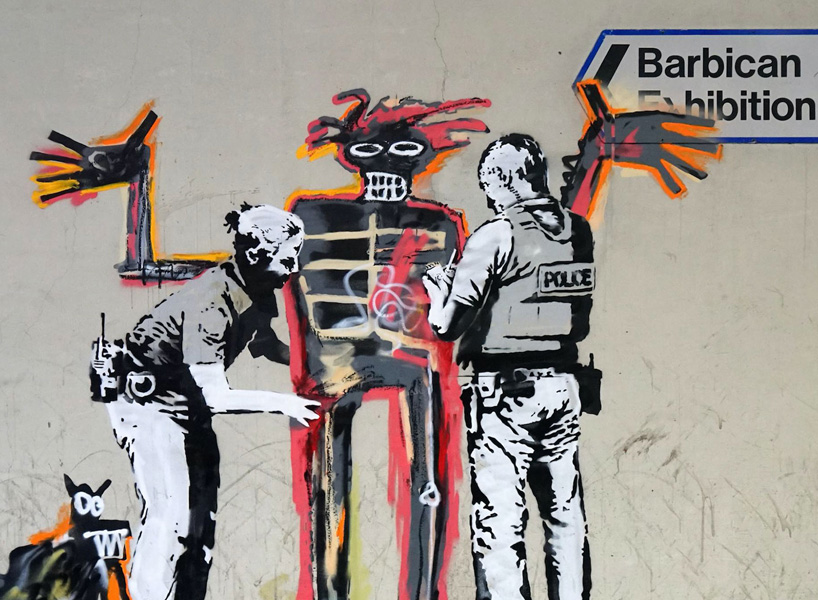 banksy welcomes barbican visitors into basquiat exhibit with politically charged graffiti, 2017 | read here
designboom has featured the 2019-resleased book 'basquiat-isms,' a collection of basquiat's musings and writings. publisher larry walsh spent over one year assembling the quotes to better illustrate the artist's voice and persona. read more here.
sir david adjaye announced exhibition designer of 'jean-michel basquiat: king pleasure'