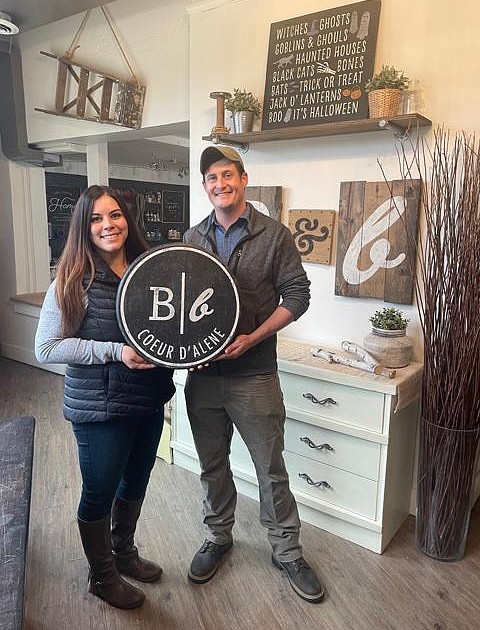 Design your sign | Coeur d'Alene Press
Board & Brush, a do-it-yourself wooden sign studio, has opened at 81 W. Prairie Shopping
Board & Brush, a do-it-yourself wooden sign studio, has opened at 81 W. Prairie Shopping Center (next to State Farm and Killer Burger).
Owners Megan and Wes Weeks host workshops for guests to create individual rustic home decor with specialty pre-registered workshops. Events can be date nights, girls' night out, birthdays, holiday parties and team building. Signs can be purchased. Attendees are age 21 and over with beer and wine available.
Hours vary but Board & Brush usually will be open weekday evenings and weekend afternoon and evenings. The grand opening/open house with refreshments and giveaways will be Dec. 4. Contact Board & Brush on Facebook. Check boardandbrush.com. Phone 208-719-1849.
Uniquely Yours opens in Silver Lake Mall

Offering gifts, Tees and souvenirs, Uniquely Yours has opened near the main entrance to Silver Lake Mall at 200 W. Hanley Ave.
Owner ShawnaRae Johnson's store has fun, unique gifts with special popcorns, hazelnut toffees, caramels, teas, chocolates, greeting cards, candles, man-cave signs, custom clothing, crispy treats, balloons, stuffed animals, jewelry, wallets, purses, spoons, mugs, puzzles hats, toys and more.
Items can be customized and have several color and order options. Open hours are the mall hours, but closed on Sundays for church and family time. Phone 208-964-7980.
Now the Tidbits
HeatPraxia saunas is opening off the southeast corner of Fourth and Sherman.
Valley Roots is new at 1001 Spokane St. in Post Falls.
The grand opening of Backwoods Whiskey Bar at 1920 E. Sherman Ave. will be Friday and Saturday.
Newly closed places include Auto Haus and the Broken Egg eatery on Government Way and Cool Cars & Trucks on East Sherman.
A building permit for the former Shopko building says "Sportsman & Ski."
HDR Engineering has leased space in Riverstone.
Prairie Xpress gas station and convenience store will be in the northwest corner of Prairie Avenue and Government Way.
A sign on the south Fifth Avenue side at the Sherman intersection says "Best Life CdA Coming Soon." Any help with that one?
A sign on Wayne Drive in Hayden says "Future home of Blue Chip Chiropractic."
Northwest Specialty Hospital is expanding at 1551 E. Mullan Ave. in Post Falls.
Open Arms Real Choices Clinic will move from 1800 Lincoln Way to 8056 N. Wayne Drive in Hayden.
Metro Express Car Wash is building a large new place in the northwest corner of Highway 41 and I-90.
Lone Mountain Farms & Brewery will have a new place in the Lancaster Market development at U.S. 95 and Lancaster Road.
Consign Furniture has a "coming soon" sign southwest of the U.S. 95-Lancaster Road intersection.
Renew Aesthetics & IV Hydration Bar will move from 515 Fourth St. to 1101 W. Ironwood Drive in January.
An Express Exterior Carwash is being built in the 3400 block of Seltice in Post Falls.
Hmm. The "For Sale" sign is gone in the northeast corner of Hanley and Ramsey and surveyors were there. What's happening?
Black Lodge Brewing will open soon on Third Street downtown.
The Rebel Junk Shoppe at 2424 N. Fourth St. will expand to a street-side location.
Bruchi's quick service restaurant is planned for a new building north of the corner of Highway 41 and Mullan Avenue.
The new Dairy Queen at 513 W. Hayden Ave., just west of U.S. 95, will open in late November.
The former Ugly Fish restaurant building will be a Berkshire Hathaway Realty in Riverstone.
Watch for construction of Vantage Point Brewery across from Michael D's Eatery off Coeur d'Alene Lake Drive.
Pedego Electric Bikes is coming into Riverstone.
Kaffee Meister will be at 9212 Government Way.
A Sweet Lou's restaurant and a Grease Monkey auto place will be at the Crossings in Athol.
Allergy Free Air is coming into 500 N. Government Way.
Gathered Restaurant is new on Spokane Street in Post Falls.
The Lucille building under construction at 2605 N. Fourth St. will have five commercial suites.
TownePlace Suites by Marriott Hotel will be built where the Outback Steakhouse was in the southeast corner of I-90 and Northwest Boulevard.
Several steel storage buildings will be built at 3758 W. Hanley Ave. (off Atlas Road) for Hern Ironworks.
New places coming to Silver Lake Mall include Nailed It, Customs Laser Engraving, All Fired Up, Crime Scene Entertainment and American Heritage.
A Sarah Hamilton FACE place will be at 2120 Northwest Blvd.
A new commercial and residential building will be built at Government Way and Davidson Avenue.
Watch for major changes with the Burger Bunker and Bunker Bar off Spokane Street in Post Falls.
A new building for Linden Coffee Co. is under construction at 1502 N. Third St.
A new gas station-convenience store will be in the northeast corner of Atlas at Seltice.
We have rumors of new Costcos in Hayden and State Line and a Trader Joe's in Coeur d'Alene. We'll see.
A large storage complex and new corporate office for Steel Structures of America is being built off Highway 41.
The Den will be a new tavern at 761 N. Idaho St. in Post Falls.
My Nails & Spa will be off Canfield Avenue.
The Cd'A Corner Store is adding a kitchen and tables downtown.
Takara restaurant will be downtown.
Schmidty's Burgers will be at 1524 E. Sherman Ave.
Napa Auto & Truck is building a new location in Rathdrum.
Coeur d'Alene Nissan will have a major addition to its building off U.S. 95.
Watch for a new apartment building at 128 W. Neider Ave., across from Safeway.
Mountain Goat Lounge is under construction connected to the Moose Lounge downtown.
The Lake Coeur d'Alene Inn is under construction on Coeur d'Alene Lake Drive between Mullan Avenue and Michael D's Eatery.
Thanks to the people, organizations and places that did special things to honor veterans this past week. I was pretty lucky in the late 1960s Vietnam War time. My draft number was "12," but the Coast Guard came to the University of Montana for a journalist-public relations person so I "served" with them in San Francisco and Chicago for four years.
Contact Nils Rosdahl at [email protected]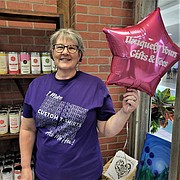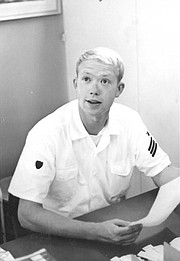 https://cdapress.com/news/2021/nov/14/design-your-sign/