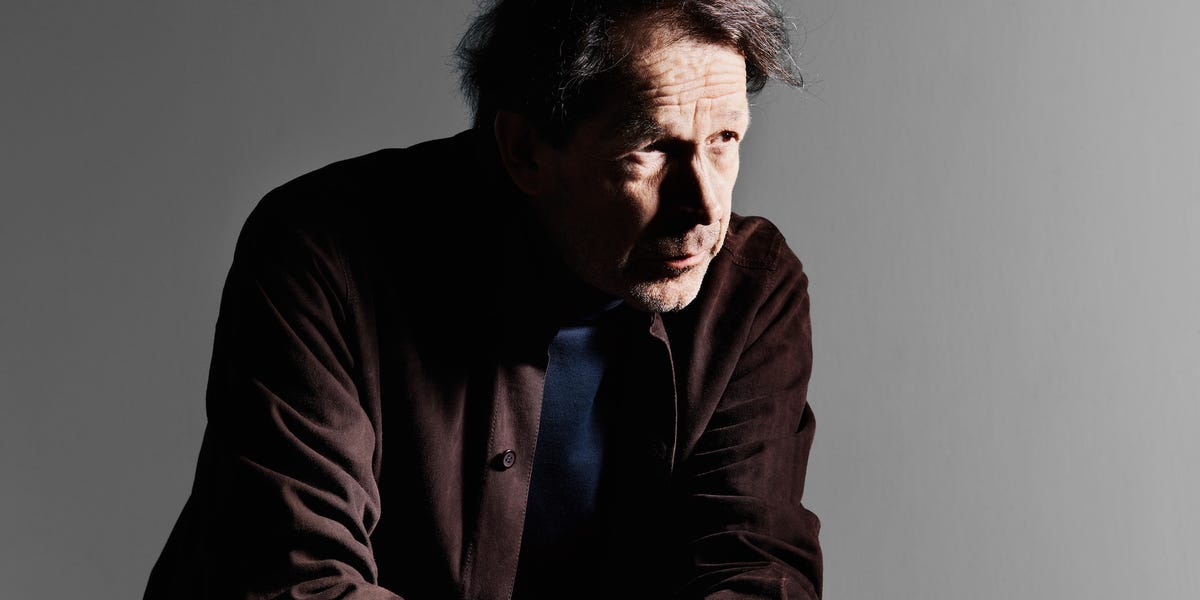 Designer Peter Saville on Swapping Record Covers for Curtains
In 2005, the satirical band Half Man Half Biscuit released the single 'Joy Division Oven
In 2005, the satirical band Half Man Half Biscuit released the single 'Joy Division Oven Gloves'. It cheerfully lampooned how the landmark post-punk band had become fodder for tacky bootleg merchandise, not least the artwork for its 1979 album Unknown Pleasures, the graphic cover that used a series of pulse waves stacked up to look like a mountain range, that has gone on to become a piece of cultural ubiquity.
There are plenty of bands who've sold more t-shirts than records, but Joy Division surely sits somewhere near the top of that list. And not just t-shirts. If anything the Half Man Half Biscuit song was ahead of its time. Today it is possible to buy the Unknown Pleasures design on face masks, candles, baseball caps, stickers, slipmats and, with crushing inevitability, £19.95 oven gloves.
Bernard Sumner, Joy Division-guitarist-turned-New Order-frontman, says he himself owns a rucksack and a cardigan featuring the pattern. Presumably just for the lols.
"There was this idea of Unknown Pleasures Kickers being put about once," he has said. "I don't think Ian [Curtis, Joy Division singer] would have been into that."
None of this merch has anything to do with the band or the person who designed the cover, Peter Saville.
We mention the oven gloves because Saville, Britain's most acclaimed graphic designer who made his name with the Joy Division/ New Order sleeves of the 1970s and 1980s, has launched a line of textile products. Never mind the Joy Division Oven Gloves. You can now buy Peter Saville Net Curtains.
The possibilities for taking the mick are rife: the whole idea sounds like another Half Man Half Biscuit song. At least it would do, were Saville's new products not produced in conjunction with Kvadrat, the über-trendy and intellectually rigorous textile company.
Based in in Ebeltoft, a sleepy port town on the northeast coast of Denmark, Kvadvat has previously collaborated with Wes Anderson, Sarah Lucas and Olafur Eliasson, while Raf Simons has on ongoing line with the company. On a more prosaic level you'll find Kvadrat fabrics in the more high-end furniture and interior design shops across Europe, and beyond.
Peter Saville's collaboration takes its inspiration from sheep. Specifically from the colourful 'spray paint' farmers use to mark their flock's wool for identification purposes, actually a mix of pigment and oil to make it stick.
Saville's debut in the home furnishings market includes the fabric Fleck, which mixes apparently random flecks of bright yellow, blue and red against natural-coloured wool. Fade and Flux – two sets of curtains. And Flock, a series of rugs. We spoke to him about his new project.
Has anyone asked you to design a fabric before?
This was the first one. And for that reason I was very sensitive about it. The collaboration actually began in 2004, when [CEO] Anders Byriel, newly at the helm of Kvadrat, turned up in my studio. I didn't know much about Kvadrat – but he knew a lot about me. And he and his then-marketing director had been quite conscientious in choosing to come to see me. Anders was beginning to take over the direction of the company from his father, so I worked on the new identity [the logo, etc] in the early 2000s. And I loved the company. Companies like that are few and far between. It helps that they've earned a monopoly for themselves, in Europe, in the production of contemporary textiles. It's still privately owned and they earn enough money, in a Danish way, to be happy. Anders, and therefore the company, do things they want to do. And they don't do things they don't want to do.
I've been to their offices Ebeltoft. Their set-up is pretty unique
They've got a bit of a commune feeling to them. It's contemporary and it's modern and it's very functional. But they all eat together. They've got an installation by Olafur Eliasson ['Your Glacial Expectations' by the architect Günther Vogt and Eliasson, a series of five elliptical mirrors that sit in the grounds to the Kvadrat HQ]. There's a piano. I mean, it's uncomfortably nice. You begin to think you're in some kind of Scandi drama. You wonder: where is the dead body? You could say I've been a consultant to the company for the last 15 years. But it's a bit more like being a friend of the family.
So you did their logo, now they've asked you to have a go at some fabrics?
Anders has always encouraged me to do a textile, or do a collection. But I didn't know anything about it, and I am respectful of other disciplines. I mean, I thought I could make a music video one day back in 1980 and I soon found out that there was a lot more to it than I thought. But there was an idea that we'd explored for a book cover [Interwoven: Kvadrat Textile and Design, 2013], using [sheep] markings – I'll use the technical term 'smit marks'. And because of the technical expertise and knowledge that Kvadrat has, about how wool behaves, and how weaving machines work, they were able to produce them. I wouldn't have known where to start. The upholstery textile, which is called Fleck, that's Stine's [Stine Find Osther, Kvadrat's Vice President of Design] expertise. It took about two years, but you could probably take out a year because of Covid. During that time they have produced an upholstery range in at least eight or 10 shades, two ranges of net curtains and three rugs. I did not suggest we make net curtains. When they first mentioned them I thought 'Really?' In the UK we tend to think of them as something our parents or grandparents had. But I was in Berlin last week, surrounded by apartment buildings and in medium-rise contemporary architecture, those European buildings where there's a courtyard and everybody's windows look onto everybody else's – they've all got net curtains. I thought 'There is a market!'
If I think of Peter Saville and interiors I think of Pulp's 'Help The Aged' sleeve and your Nineties Mayfair home, The Apartment. They both had a kind of retro-Playboy vibe
Oh yes! That was different. But [working with Kvadrat] has also been a strangely biographical experience. I had to do a little product film last week [for the range] and I sat on a set on a Bibendum chair covered with Fleck, the Fleece rug on the floor and the Flux net curtain behind me. And I remembered what had led to this. The day that I had the thought – you can call it an idea, but it was just a thought – I was sitting in my car on the edge of a field in north Wales, where I spent months and months of my childhood on some farmland. I grew up outside Manchester, but there had been a tradition in my mother's family to have holiday cottages in Llandudno, in north Wales. Every school holiday we got dragged off to Llandudno. I made friends with a boy called Justin, whose father ran a farm, Bodysgallen Hall Farm, where I would spend the holidays. I had my early teenage experiences on that farm: smoking, girls and the rest of it. Eventually it was taken over by Heritage Hotels because it was adjacent to a country house, but Justin's family would still farm the land. So, in the latter part of my parents' life, when I would go home and see them, I would stay at Bodysgallen Hall. The same building where I would play as a child. And every time I would come back I'd notice the crazy spraying on the sheep. And the reason I was particularly curious was because it was Justin – he'd done it. I said 'What the fuck are you spraying on these sheep?' It did fascinate me. It looked like graffiti. You know, an urban sensibility in the countryside. I thought 'These sheep look like they've been graffiti'd. They looked like Futura 2000 or Keith Haring or latter-day Banksy is at work in the field'. So when I got to know Kvadrat and know something about wool and weaving and wool production I thought 'What if these colours didn't wash out? What if they made their way into a final textile?' Do you remember some of these early Seditionaries sweaters [Vivienne Westwood-designed punk clothing, sold from the Kings Road shop Sex in the mid-Seventies]?
Of course. The mohair ones
Yeah. I had a white one with weird abstract patches of red on it. And so that's how I thought about it. That was my conversation with Kvadrat.
Still, net curtains. That's not very punk rock, is it?
No, it's not. But then I'm not, really. When [fellow record sleeve graphic designer of Buzzcocks/ Magazine fame] Malcolm Garrett and I went to art college we wanted to learn how to do record covers. Not corporate identities. Not sign systems. Not packaging. But this was the early 1970s and Malcolm and I saw record covers as an independent medium in their own right. We'd talk about music. But we'd also talk about record covers. They were two separate things. And for a teenager, in the 1970s – in fact until the advent of The Face –the record cover was the principal medium of contemporary visual art. It was something we could relate to and understand. For me it was about the visual content and not really about the music, so [my] famous covers operated autonomously. New Order made their records and I made the covers. And then they would uncomfortably come together. In fact [Joy Division/ New Order manager] Rob Gretton suggested the [1989] album Technique should be called Peter Saville's New Order – as in [the name of first Velvet Underground album] Andy Warhol's Velvet Underground.
That would have been great
Yeah, it would have been great. But it didn't work for Bernard [Sumner].
What does Bernard make of your net curtains?
One of Bernard's nicknames for me, and it kind of sums up the loving vitriol, is 'Llewelyn'. As in 'Laurence'. He likes referring to me as 'Laurence Llewelyn-Bowen'. So with the net curtains he'll probably think I've found my true forte.
Why have your record covers endured?
Because the ideas touched people and influenced them. And because they were on a record cover and because some of those records were great, those ideas went to a lot of people. The interesting synergy between this fabric collection and the work that people have loved of mine is that it's exactly the same thing. It's an idea. It's an idea about aspects of life. And connecting. This fabric connects a reality from the agricultural world, a reality from landscape and a reality from the rural environment. It connects that directly to something that you might live with. And so it's an idea, and it's uncompromised. There was no commercial remit bought to me by Kvadrat. There were no reservations, there were no limitations. It's purely one idea transported from one place to another.
Kvadrat and Joy Divsion/ New Order's record label Factory both being, of course, independent companies
And the surprising thing is that when Stine developed Fleck, Anders called me to say 'Peter, it is very commercial'.
When was the last time you heard that?
I thought he was being facetious. I said, 'I'm sure it's not.' And he said, 'No, no, it is'. And it wasn't until I saw it on something – I mentioned the Bidendum chairs the other week – that I suddenly appreciated what he meant. It's actually really good! I mean, it works really well. Because it's quite classic. But when you get up close to it, it reveals surprising information.
You're joining Raf Simons and Olafur Eliasson as a Kvadrat collaborator
Raf and I have a history [they worked on Simons' 2003 menswear collection 'Closer' together], so he came and talked to me about Kvadrat. He thought it might be interesting to do a collection [with them]. So I said to him the sort of things I've said to you [about how the company operates]. So that was the beginning of the collection with Raf, which I think Kvadrat have enjoyed and I think Raf has enjoyed.
To attract such single-minded people, Kvadrat must be doing something right
With the artists, with Olafur in particular, and [conceptual artist] Rosemarie Trockel and [sculptor and photographer] Thomas Demand, Anders has been very supportive. He supplied extraordinary amounts of wool for an installation I saw at the Ludwig Museum in Cologne [Trockel's 2006 work 'Yes But' that used raw wool]. And miles of curtain for Thomas Demand for the Neue Nationalgalerie in Berlin a few years ago [an exhibition also called 'Nationalgalerie']. So it's not unlike Factory. Anders doesn't need there to be a commercial remit. If he can do it, he'll do it.
This could be a whole new career for you
I've been so pleased. I know that Stine is thinking of extending some of the colours in this first range. I've got another one I'd like to do now. I have a concept that I'd like to transpose, again from another place into this place.
In the movie 24 Hour Party People: The Factory Records Saga, the caricature of Peter Saville is that he's hopeless with deadlines. How were you with this gig?
Well, yes. But I have really great managerial support now. I have a women called Alice Cowling who works with me [she is credited as 'Producer']. Alice is on it, you know? I now see emails that say 'Thank you for your swift response'. So 'Peter Saville's Office' now functions very efficiently.
Why were deadlines such a problem for you?
The problem – no, the issue ­– was that when I was hands-on with the work I was more concerned with its lasting quality rather than a sense of urgency, you know? It was selfish and indulgent of me to do that but the only compensation I can offer is that we're still talking about it now. Bands, famously, take as long as they want. And then, once they finish, they want the record out immediately! And the idea that there's somebody else, doing something other than the music, is an anathema to them. I see it now. I see it better now as a grown-up than I did in my Twenties. But I cared about what I was doing in the same way as [the bands], or their respective producers, cared about what they were doing. I was doing the work for me and not for them. And that can be described as being unprofessional. But I was very professional in wanting to do the work meticulously. Graphic design, for the most part, is a disposable medium. It throws shit at the wall to see what sticks. And that's not what I was doing. I was trying to make art in the stream of mass production.
How often do you get asked to design something now?
People ask. But I'm a little bit hard to get hold of. I don't have a website. I don't have an Instagram feed. I don't have an agent. And I'm not running a studio. So it's quite easy for me to avoid commissions. And it's very helpful for me to have Alice to say to me 'Do you really want to do this?' And I say, 'Well, not really'. And she says 'Well don't accept it then'. So fortunately for the last three or four years I've been able to do good work that I wanted to do, and pay the rent. And not have to do things that I don't want to do.
Is it fair to say there was 'a tricky period' in your career?
A lot of what I invested in the first decade [ie: the legacy of the album sleeves] didn't support me in the middle. But now its come through. So yeah, there was a tricky 20 years between 1990 and 2010. But since 2010 the people who got something from me [ie: Joy Division/ New Order fans in their youth], in the nicest sense, have [grown-up to] become the decision-makers in the respective fields. And every year since someone has turned up and said 'Peter, I've always wanted [to work with you], can we do it?'
Anders being a case in point
He was one. But there was Raf [Simons] when he went to Calvin Klein [as chief creative officer, from 2016-2018]. Then Riccardo [Tisci] at Burberry [chief creative officer, from 2018. Saville redid the 'corporate identities' for both]. And there's another one of considerable stature that I'm not supposed to mention yet, so I won't. And then this year there was Marek Reichman [chief creative officer, from 2005] at Aston Martin, who I'm working with.
Stella McCartney too?
It was slightly different with Stella. Stella was during the difficult period. It was nice doing something with Stella. But I didn't earn any money. It was at the beginning [of launching the label, in 2001, another Saville logo] and it was a start-up. I mean there was always work. There was no shortage of work! But I wasn't being paid. This last ten years that has not been the case. People approach me from really diverse sectors, which is unusual. Sport, fashion, culture, politics, textiles. And now cars. And they come wanting me to do it. They're aware of the fact it has value. And because I'm not trying to support a studio or employ a dozen I'm not compromised. I'm 66 now. I really don't want time to go by on things that I don't want to do. A 25 you accept it. At 35 you accept it. At 45 you accept it. Once you get into the later period of your life you should be doing something that you have a feeling for.
Can you switch design off?
I'm less concerned with things I don't like now. I have made my contribution to the world looking a bit better, for better or for worse.
You don't start fuming when you can't work out how to turn the bedroom lights off in an over-designed boutique hotel?
I won't go in them! Because I know that's going to happen! Somebody booked me into a hotel in Berlin a few years ago, called Ku'Damm 101. It's on my mind because Anna [Blessman, artist and clothing designer], my girlfriend, reminded me of it because we were in Berlin last week. She said 'There's that hotel! You checked out before we even entered the lobby'. They had a DJ. It was not for me.
Do you still get asked to do record sleeves?
I mean, occasionally. And I have to politely point out that I'm a 66-year-old man and it's not appropriate. I did consultancy for Manchester for several years [in 2004 Savile was announced as 'creative director' of the city]. So I was up in Manchester every week. This is a good ten years ago now, but I guy came up to me in the street, he was in a band and he said 'Are you Peter Saville? Will you do our cover?' I said 'How old are you?' And he's 22. So I said 'When I was 22 I wouldn't have asked my Dad to do my record'. I said 'I'm old enough to be your father. Maybe your grandfather. Someone of your own universe, your own life has to do it'. It was really nice of him to ask and I was touched. But it's not appropriate.
One of the last bands you worked with was Suede
When Brett [Anderson, singer] asked me to do Coming Up I said no. In order for that cover to be the right cover for that record I made Brett the executive art director. I said 'I'm 40 and you're 25. In don't want you to come to me only to find out that we don't see and hear the world the same way. I will help you find the cover you want. But you are the final arbiter.'
I love the Coming Up cover
It's a beautifully composed work. [Acclaimed fashion photographer] Nick Knight took an extraordinary picture. Nick and I were able to access experimental techniques which we'd gathered but never deployed in anything. But the thing – the iconic element – that makes Coming Up work is the stripped mattress. And that's Brett. We were discussing the studio floor [the figures on the cover are lying on] and he said 'Well, what are they [lying] on?' And I said 'Well, maybe some pattern rug or a zebra skin or something like that'. And he said 'No, they should be on a mattress'. And I thought 'Oh, what's he on this week?' But Brett said 'No – like they're in a squat'. I was living in The Apartment in Mayfair and Brett reminded me of what it's like to go home with someone when you're at college, or whatever. He made me see that. I mean, you can [design] record covers [when you're over 40] but they shouldn't be pop records.
Well, now you're onto soft furnishings
More sedate stuff. Yes. It comes with a comfortable lifestyle, absolutely.
What's your own home like now? Is it like The Apartment or have you fully embraced comfort?
No. When I finally left the Apartment in 1999 I was okay about it. I was uncomfortable. It was a bargain rental supported by my friend and there was a certain luxury to it. But it wasn't true. By the early 2000s living in a studio just seemed more authentic and true to my reality. I didn't have any money. So what was I doing living in Mayfair? It was not sustainable. So I'm still living in my studio in Clerkenwell [in east London]. But it costs so much to rent now that it's sort of surreal. All of my living possessions, and everything from The Apartment, and everything from my parents after they passed away, it's all in storage.
Is it alright, living in the studio?
I would like a home. That's one of my principal objectives. There was a nice sofa in The Apartment. I still have it. I would like to sit on it again.
You know what you need. Somewhere in the countryside, with fields and sheep
But I'm not sure where in the UK I would like to be other than London. I know what the countryside is. But it isn't a place. And it isn't just that, it's the people and the culture. So it's an interesting challenge at the moment, to see where I might make a home for a few years. Anna, my girlfriend, is from Berlin. So Berlin's an option. There are still vestiges of opportunity in that city, where everything hasn't been priced out. You can still look around Berlin and feel a sense of opportunity rather than just an impossible burden. London is insane and unsustainable. The London that mattered to me has been pushed out to the perimeter and beyond. I was talking to Sheila Rock, the photographer [known for her music photos, whose career was launchd by The Face]. She's doing a book and she wanted me to write just a note about [Eighties fashion designer noted for combining vintage fabrics with modern tailoring] Scott Crolla. And we talked about the fact that the Crolla shop that opened in the early 1980s was one of the most innovative moments in clothing. But more than clothing, life sensitivity. And that shop opened on Dover Street [in Mayfair] as a kind of an experiment, without significant investment, without backing, without being part of Kering [multinational owners of Gucci, Bottega Veneta and Alexander McQueen] or LVHM [who owns Louis Vuitton, Berluti and Marc Jacobs] or something. You can't do that now. And it belonged on Dover Street because it was so much about twisting the establishment. Where does somebody do something just because they can? Where there isn't a commercial remit from the get-go? And without having to justify the hundreds of jobs, the £500,000 investment? It's rendering the core of our global cities predictable and, actually, kind of offensive.
It's time to move out to that Kvadrat Danish commune
It's kind of the ideal organisation. It's so rare you encounter a company which is exactly how you imagine a company could be. Kind and virtuous. And isn't hell-bent on making more and more money.
This content is created and maintained by a third party, and imported onto this page to help users provide their email addresses. You may be able to find more information about this and similar content at piano.io
https://www.esquire.com/uk/design/a37972671/peter-saville-interview/