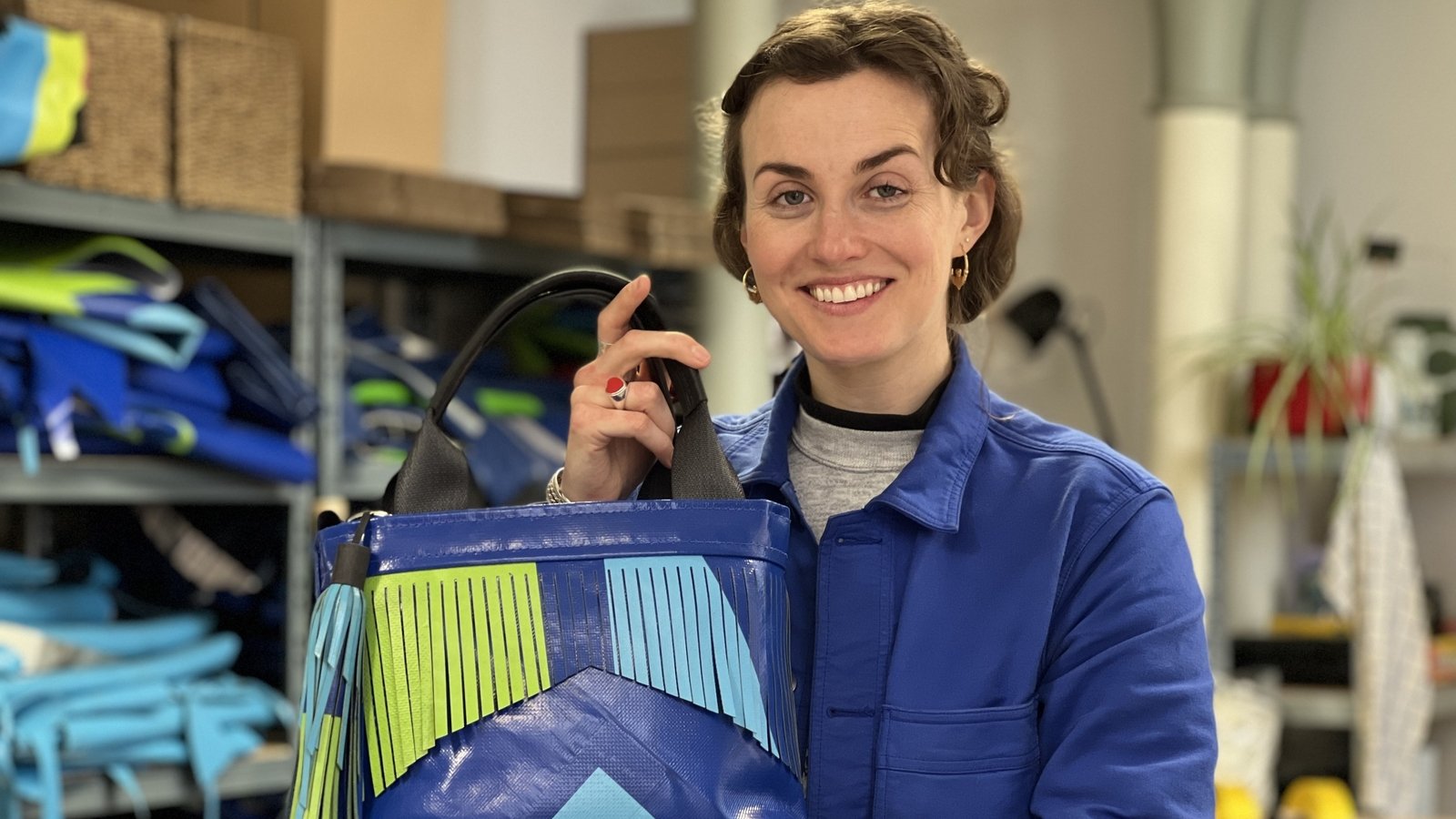 Designer sees bags of potential in truck tarpaulin
With the fashion industry facing calls to boost sustainability measures, circular business models and low
With the fashion industry facing calls to boost sustainability measures, circular business models and low carbon strategies, a growing number of Irish brands are reimagining and repurposing discarded materials into desirable and useful products.
Take Síofra Caherty, for example. At her sustainable Belfast design studio, Jump The Hedges, Síofra makes stylish bags from reclaimed truck tarpaulin.
She said: "I create bags from waste materials, mainly truck tarpaulin and reclaimed leather. I do this because there is a huge abundance of waste materials and I really believe in the opportunity of making something worthwhile and valuable from a waste material or what other people would consider rubbish.
"Sourcing the tarps has been an ongoing journey for the last five years. The first one was just luck. I just knew a man who was a lorry driver. There was one in a yard that he worked at. It kind of started like that.
"I had all these different phone numbers in my phone book like 'Seán Yellow Tarp' and 'Mickey Blue Tarp'. I'd be phoning all these people saying, 'OK. But it's covered in holes and snails'. And I'm like, 'It's grand. I'll sort it'.
"So, I was literally going around collecting people's rubbish. But I was like, 'I can see the beauty in this'. It's very heavy-duty, very durable. And then there are all these unique markings. Therefore, each bag is totally individual."
While the fashion industry has seen a spectacular growth over the past 100 years, its development has come at a devastating price.
The industry is highly greenhouse gas intensive, with estimated emissions ranging between 2-8% of the global total.
According to the UN, the equivalent of one garbage truck of textiles is landfilled or burned every second.
Síofra said: "We have produced too much. We have too much. And we are continuing to produce too much. The world is on fire, but we are still doing this. It's just kind of mad, really. For me, that's where my passion of reusing waste really does come around. I can see all this very heavy-duty, durable, amazing material that is basically just going straight to landfill."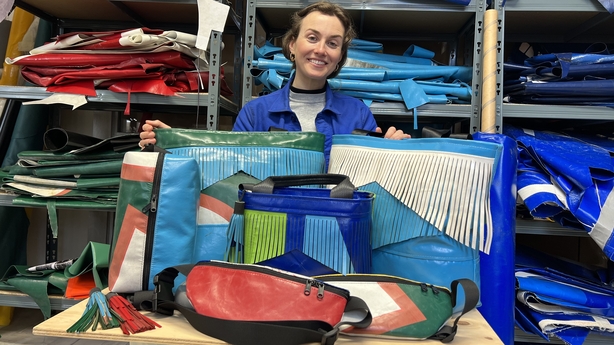 Last month, Síofra was one of five winners of the 2022 RDS Craft Awards. Each winner received a €10,000 cash prize to support the development of their craft & business skills.
Síofra intends to use the prize money to complete a leather arts and bag-making apprenticeship in Italy.
Jump The Hedges is also one of only 28 businesses selected to participate in Small But Perfect's European sustainable fashion programme.
"It doesn't matter how sustainably something is made," she said. It is always more sustainable to use something already in existence. It's a mindset with regards to problem-solving. And I do think that is a key element of design that isn't really, I feel, talked about that much. But I do believe that a good designer is a good problem-solver".
In our 'Climate Heroes' series of reports, we shine a light on the people who are stepping up to protect the environment and tackle climate change. While these people come from all walks of life, they share a common purpose to improve the world around us.

https://www.rte.ie/news/2022/0513/1297813-designer-bags-tarpaulin/