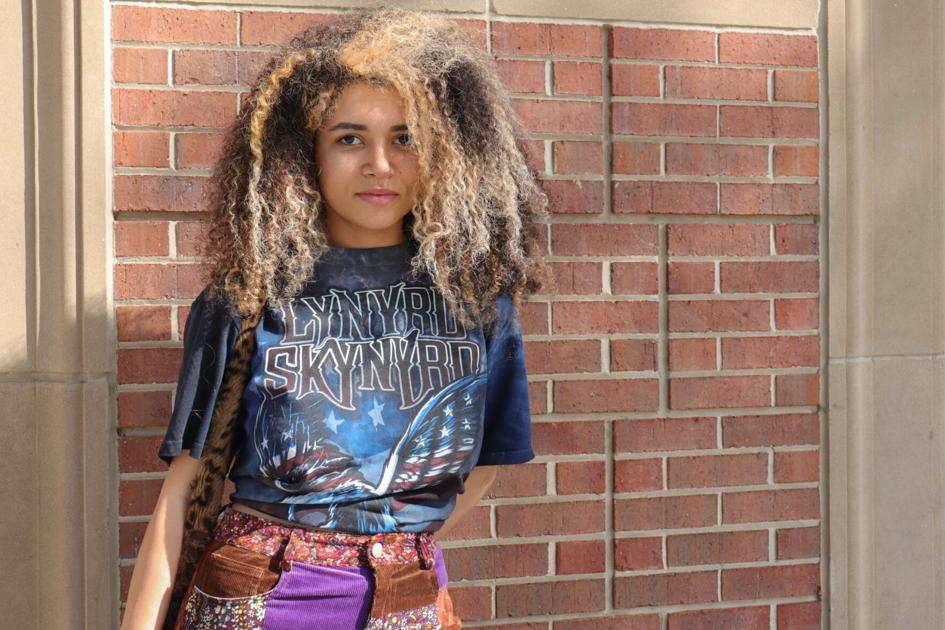 Fall fashion on campus: What are UGA students wearing? | Arts & Culture
Table of Contents Erin "Ducky" Duckwall, sophomoreMontana Graham, sophomorePenelope Williams, sophomoreAustin Baker, juniorSyd Cohen, seniorMeco
While the first weeks of fall this year have been juxtaposed by heavy rainfall and warm temperatures, there is still a palpable excitement around the arrival of the season known for all things pumpkin-flavored and spooky scenes.
Some of this excitement comes from dressing the part — knit sweaters, combat boots and oversized sweatshirts are just a few closet staples that one can expect to see during this time of year.
The Red & Black spoke with University of Georgia students about their fall fashion and what they're looking forward to wearing over the next few months.
Erin "Ducky" Duckwall, sophomore
What they're wearing: Skeleton crop top, high waisted black pants, steel toe Dr. Martens, assorted necklaces, "The Lord of the Rings" ring and an evil eye ring
Before coming to campus on Oct. 1, Duckwall, a landscape architecture major, planned out her spooky season-appropriate outfit to properly celebrate what she said was a "momentous day." Not one for paying too much attention to trends, Duckwall is still excited to see the return of baggy pants this fall. "When they went out of fashion, it hurt," she said.
Montana Graham, sophomore
What they're wearing: Lynyrd Skynyrd T-shirt, corduroy patchwork pants from Tunnel Vision, platform boots from UNIF and a fuzzy leopard print bag
Eccentric is the word that Graham, an intended entertainment and media studies major, said she would use to describe her style. Weather is essential to her outfit choices — Graham dislikes sunny weather because it prohibits her from wearing jackets, she said.
Looking at the upcoming week's forecast, a string of days in the 70s gets Graham one step closer to showing off her collection of faux-fur trimmed coats, which she is eagerly awaiting.
Penelope Williams, sophomore
What they're wearing: Black crop top from Target, thrifted slip skirt, platform Dr. Martens and a mix of gifted and found jewelry
Williams, a psychology and management double major, said she doesn't subscribe to one aesthetic. Instead, she throws on the clothes that best suit her mood for the day.
When she came to college, her style changed in a way that she didn't expect — going from dressing to the nines in high school to dressing for comfort in college.
This fall, she's been noticing "how loud the colors are," which she said lays in stark contrast to the muted colors of the 2010s and is, in general, more fun.
Austin Baker, junior
What they're wearing: White button-down shirt, red bow tie, red quarter zip sweater from Polo Ralph Lauren, navy slacks and brown dress shoes
Walking into Tate Student Center, it was easy to spot Baker, a management information systems major, not only because of his tall stature but also because of the matching bright red sweater and bow tie he sported.
A departure from Baker's normal day-to-day outfits which he said consists of thrifted T-shirts, athletic shorts and Converse, he decided to dress up for an interview, because according to him, when "you look good, you play good."
Fall is Baker's favorite season to dress for because it's neither too hot nor cold, allowing for a variety of outfits, including ones featuring flannels which he said he couldn't wait to throw on again.
Syd Cohen, senior
What they're wearing: Thrifted white button-down shirt, plaid dress from Outdoor Voices, knit leg warmers and chunky black loafers
Cohen, an entertainment and media studies and international affairs double major, is really feeling the change in season — though she wishes it was chillier outside. Fresh off a weekend trip to Nashville, where she purchased her maroon exercise dress, Cohen said her fall outfits tend to lean more preppy.
After not being able to attend in-person classes for a year, Cohen is all for dressing to impress on campus. "It's your only time to go outside and actually talk and interact with people, so I got to be on my A game," Cohen said.
Meco Young, senior
What they're wearing: Handmade shirt, coordinating kimono and wide leg pants set, flower earrings and a printed scarf
Young, a theatre and communication studies double major, said she woke up feeling "kind of badass" and wanted to channel that energy into her outfit. While her fashion influences vary, contrast is a mainstay, with Young often mixing light and dark pieces together. The flowy baby pink set and heavily fringed shirt she wore was inspired by both TLC's "Waterfalls" and punk rock culture.
As the weather cools down, Young said she looks forward to putting her own spin on layering and is hoping to show off some "obscenely long" scarves that she acquired from a neighbor.
"I'm excited to see what other people wear this fall as well [and] just to be a part of the fashion at UGA," Young said.
https://www.redandblack.com/culture/fall-fashion-on-campus-what-are-uga-students-wearing/article_86754776-3087-11ec-91e2-bf47913ffff9.html