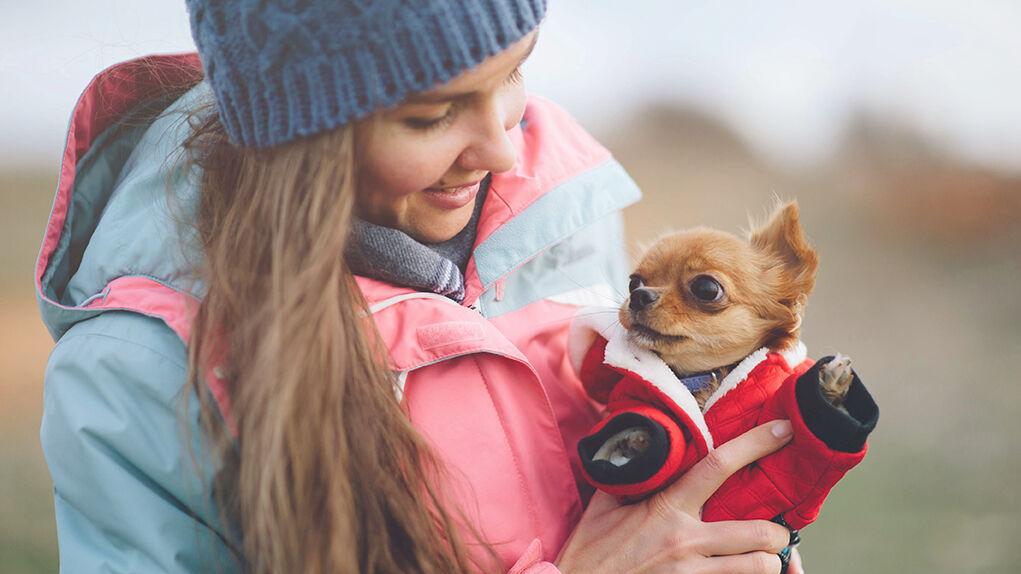 Fashion Forward | Current Issue
ruslanshug – stock.adobe.com People are emerging from their homes wearing the clothing and shoes that
People are emerging from their homes wearing the clothing and shoes that they bought, but mostly didn't use, during the pandemic. Likewise, many pet parents are outfitting their dogs in new outfits too, because they want their dogs to be fashionable, warm and even color coordinated. 
Now, retailers have an opportunity to tap into this pent up demand for dog apparel. The key is to follow the trends, and that includes consumer demands that go beyond just what looks fashionable. According to manufacturers, the hottest trends in dog apparel are borrowed from human fashion, from the newest fabrics and textures to practical elements such as warmth and comfort. 
"Dog apparel is trending toward looking more like human apparel in form and function," says Barton O'Brien, founder of BAYDOG. "Specifically, consumers are looking for higher end fabrics and materials, non-standard colors in varied shades, and styles that more resemble what they might wear themselves." 
For example, colorful, washable fleece has long been an essential fabric for jackets for humans, and dogs can benefit from its warmth too. BAYDOG redesigned its Saginaw Fleece for dogs, and this new version provides more coverage on the dog's underside, and there is upgraded material and a new quarter zip collar.
O'Brien says one factor that is driving demand for functional, attractive dog apparel is that younger consumers, especially millennials, view their dogs not as pets but as members of their family. 
"People take their dogs everywhere with them, and often have their canine companions join them for activities like hiking, camping, paddle boarding, kayaking, you name it," he says. 
Dog owners want what is best for their dogs, and in clothing, that means innovative products that are both functional and stylish. People are spending more on their dogs, O'Brien says, and are willing to pay for quality. With that in mind, BAYDOG developed the Narragansett Bay Sailing Jacket, which features a quarter-zip collar with fleece lining, waterproof zippers and a lightweight mesh lining, and is modeled after high-end sailing gear that humans wear. 
Keeping Up with Clothing Trends

 
Just as consumers prioritize finding clothing that is built to last and simple to use for themselves, they also want the same from the dog apparel they purchase. Warmth is crucial, and people want to invest in a quality winter coat that fits and washes well. 
"Just like with human apparel, high-end fabrics fit better, they wash easier and they protect against the elements more effectively" says Gretchen George, president of PetRageous Designs. "Unlike the earlier days of dog apparel, modern pet parents now know that their dogs do get cold." 
Especially with the colder weather, humans aren't the only ones that like to stay warm. As such,  pajamas are gaining popularity. "We see that the consumers are moving toward functionality and practicality of the dog clothes more than just extravagance," says Amy Yu, the sales manager at Klippo Pet. "Our popular styles are the cozy and snuggly pajamas collections." The brand also makes matching blankets, which retailers often bundle with the pajamas to make gift sets. 
The desire for warmth is still the main driver of winter apparel sales, so retailers can focus on keeping everyone well insulated. Hello Doggie offers sweaters made from soft wool blend knit fabric, and coats to help dogs keep out the chill on walks with their humans. "Dogs get cold as well," says Eleonora Bonfini, owner. "As the mom and dad get a warm coat so does their fur baby."
While functionality is important, so is style. Of course, manufacturers continue to look at human fashions for inspiration when designing coats, jackets and other dog apparel. 
"We always look at the current trends and interpret them appropriately for pets in terms of style, fabrics and functionality," says Susan Calles, national marketing manager for Ethical Products, which makes Fashion Pet apparel. "Trends in functionality are key. Consumers are dressing their pets in stylish clothing that keeps them warm and/or dry and to look good."
Another company that looks to human trends to inspire dog clothing is PetRageous Designs, which recently debuted its Ogunquit Quilted Jacket with Harness Opening in Navy with a plush poly sherpa liner. The coat is an easy on/off garment and is 100 percent machine washable. 
"Consumers are looking for garments that are comparable to human apparel," says George. "Our design team is extremely vigilant in watching trends in human fashion and look to this space for inspiration." 
Besides functional everyday wear and comfortable clothes, another trend now is featuring bright colors. "According to our sales study, the popular colors in dog apparel are the brighter and bold colors such as turquoise, pink, yellow and orange," Yu says. 
Securing Sales
When it comes to selling apparel for dogs, retailers can succeed in the space by offering an assortment of clothing in all sizes to accommodate different dog breeds and different ages. 
It also helps to have clothing available to customers year-round. Calles notes that certain items are strong sellers the entire year, such as the full-length Classic Cable Sweater in bright colors, the Harness Coat with built-in harness and adjustable straps, and the Rainy Days Slicker classic raincoat with reflective stripes on the back and hood. "The popularity of these items is mainly due to their functionality," she says. 
Retailers should stock up for the holidays, so shoppers can buy gifts for their own dogs and for others' furry companions. PetRageous also has Holiday Gnome Brushed Fleece pajamas. Pajamas don't just keep pets warm and comfortable, George says, they also help keep pet hair and dander off the furniture. 
Dog clothing used to be a fun impulse item that people would end up buying in addition to the intended food or toy. That has changed as fabrics and features have improved, and as pet parents continue to recognize the importance of certain clothing items. 
"Consumers are now looking for fashionable, functional clothing for their pets every trip to the pet store," Calles says.  PB 
https://www.petbusiness.com/current-issue/fashion-forward/article_0ed1988a-366f-11ec-96ba-3f4111c278b5.html