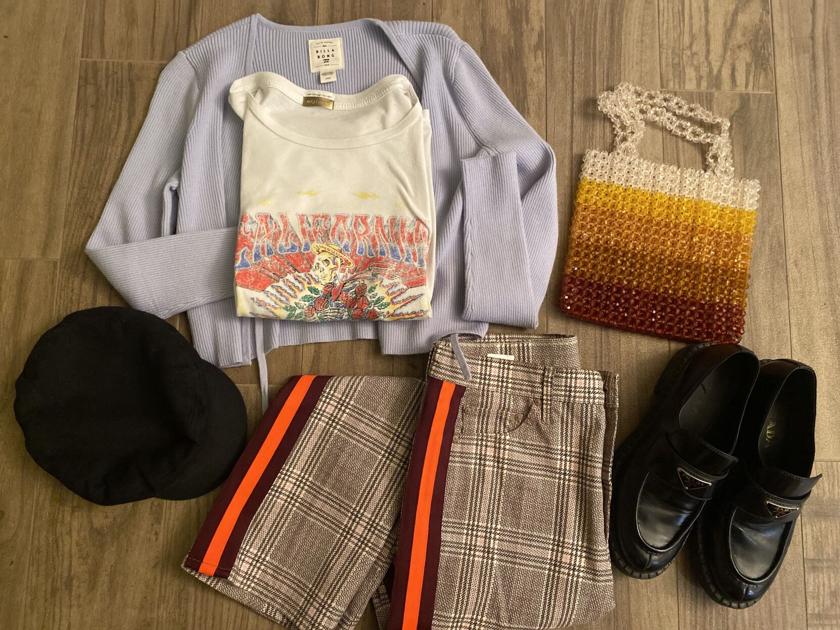 Get festive this season with these holiday fashion ideas | Lifestyle
Photo illustration Andrea Clemett (Andrea Clemett / Daily Titan) It's time to ditch the sport
It's time to ditch the sport or pajama look and get into trendy fall and winter styles. Last holiday season was a drab with the lockdown and lazy day attire, but now we can ease into dressing up and going out in effortless looks that require simple accent pieces or accessories.
As one of the major fashion magazines in the industry, Vogue said that when top designers released their virtual collections for the fall, they embraced timeless staple pieces inspired by getting out with exciting looks such as bodysuits, leather jackets, puffer jackets and plaid.
What's trending for fall
Nylon Magazine highlighted that puffer jackets have made a resurgence in a whole new way. Gone are the days of looking like the marshmallow man from "Ghostbusters." Designers have modified these jackets with new tailoring and aesthetics, and some are produced with environmentally friendly materials. 
Designers like Gucci and Balenciaga put the spark back into wearing tights with eye-catching patterns and bold logo prints. They can up the ante of any outfit when wearing them with shorts, plaid skirts, dresses and pants. 
This season, styles have come back from previous years, said Madison Ranahan, a sales associate at CAllie Girl and fashion merchandising major from Academy of Art University in San Francisco. 
"Puffer jackets and vests, chunky knit sweaters, mock neck tops/sweaters, sweater vests, high rise straight leg jeans, leather pants, knee high boots and right below the knee boots and chunky platform Chelsea boots are a few that I've seen this season," Ranahan said.
On the men's side of fashion, '90s styles are popular with young people, said Sonny Nigro, buyer at Icons of Surf shop in San Clemente. Loose fitting clothing is currently trending with an emphasis on sweaters with stripes and prints. Guys can stray away from the typical baseball cap for a stylish hat. Another way to accessorize is with sunglasses from Rain or I-sea, Nigro said.  
Thanksgiving and holiday parties 
As the cooler weather approaches, the idea of a cozy and comfortable holiday outfit meshes nicely with family get-togethers. Trade in the sweatsuit for knits, just in case you need to impress grandma, but still want to lounge around and eat turkey.  
Sweater dresses offer a simple and chic option since they can be worn with tights and knee high boots. 
"A comfy yet cute option is always leggings and a chunky sweater or floral puff sleeve blouse that is always a staple,"Ranahan said. 
Titan guys can't go wrong with a nice and stylish button-down in both long and short sleeves. Depending on the event, men can dress their outfit up with simply tucking in the shirt or by leaving it out. If the dress calls for evening attire, jackets from brands like Brixton and RVCA add that extra spark, according to Nigro.
Mix and Match outfits for the season
With numerous holiday gatherings on the agenda, it's essential to not wear your favorite one-hit-wonder to every party. 
One can take a step out of their comfort zone by pairing an autumn sweater or cardigan with bold plaid pants. If black is a common go-to from your wardrobe, accentuate the outfit with trending jewel tones like rust, berry or emerald, Ranahan said.
Another option is to build upon what is already in your closet. Pick a favorite staple item of clothing and get creative in piecing it together with other clothes to design new outfits, Ranahan said. 
"Don't be afraid to get out of your comfort zone and try new trends," Ranahan said. "Put together unique outfits and find what makes you feel good." 
Whether you're staying in or heading out, dressing up does not have to be a chore with some guidance, a few accessories and a lot of self expression. 
https://dailytitan.com/lifestyle/get-festive-this-season-with-these-holiday-fashion-ideas/article_79981762-45a0-11ec-8215-93eac9f89086.html