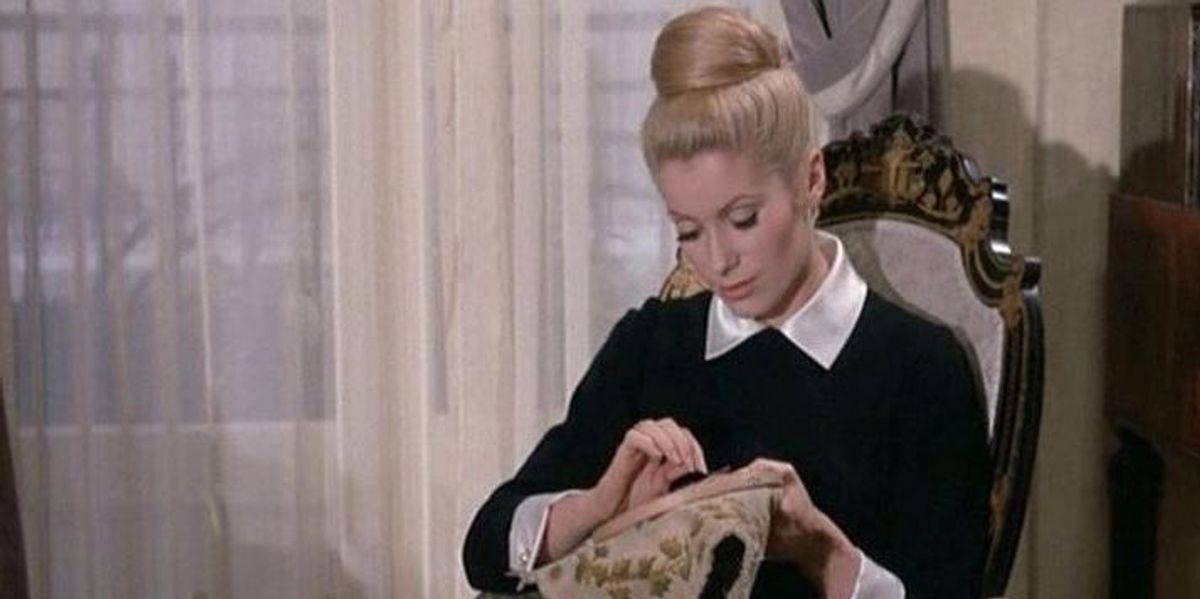 How to Maintain Your Vintage Clothes
Table of Contents Preventative Maintenance Is KeyHow to Rid the "Vintage" SmellStorage Depends on the
In tandem with the shifting narrative around shopping from rapid consumerism to clothes we love and keep forever comes the requirement of a little more effort on the side of the wearer. Not only should we invest in fashion that lasts, but we must take care of it in order to prolong the lifespan. In general, the older the garment is the more care it requires. In other words, that vintage habit entails a little extra work.
To dive a little deeper on this subject, we consulted the team at Dora Maar, an online destination for pre-owned luxury fashion. CEO and founder Lauren Wilson and head of fashion Brian Solis have got this process down to a science. They're sharing tips we didn't even know to ask about, from storage solutions to cleaning hacks to the products you never knew you needed. Continue to discover the answer to all your vintage maintenance needs below.
Preventative Maintenance Is Key
Lauren Wilson: "Thoughtfully caring for your clothes is a rewarding process. When acquiring pieces of pre-loved or vintage clothing, I always recommend taking the items to be professionally cleaned before combining them with your existing wardrobe. At Dora Maar, we actually will take speciality pieces (especially runway) to get cleaned beforehand, so that the care for the garment already starts with us. Something to keep in mind is that we often drop clothing off without any adequate conversation with the dry cleaners surrounding their process and our expectations. For ultimate care, definitely consider opening the dialogue with your dry cleaner to ask pertinent questions, explain where the clothing came from, and share your desired results. It'll make a big difference!"
Brian Solis: "Overall, just remember to stay on top of little repairs to perform preventative maintenance. For example, reinforce buttons before they fall off or catch holes when they're still small."
How to Rid the "Vintage" Smell
BS: "The most effective way to get rid of the 'vintage' smell is to hang the item in a well-ventilated area with a fan or circulating air. Another great trick I've had success with is using a dryer sheet to absorb the smell. It's really important to be cautious about using a deodorizing spray, as these products may cause a reaction and subsequently change the color of the fabric."
LW: "This one I love! Living a busy NYC life, many of my apartments did not have in-unit laundry, so I have learned a few things along the way. Overall, it is good to avoid dyers as they break down the fibers of the fabric and cause the pieces to shrink or prematurely age. We like to avoid washing jeans, so here's a secret trick to keep them fresh while still protecting the indigo hue: Turn them inside-out, slide the folded pair into a Ziploc bag, and put them in the freezer. For lingerie, we always recommend air-drying, given the delicate fabric. If you put delicates in the dryer, the elastic will never be the same."
Storage Depends on the Item
BS: "This all depends on the age of the garment. Knitwear should be folded properly. Dresses and other hanging items should have lingerie straps to hang items properly and relieve the stress from pulling on the garment. To extend the life of shoes, I suggest using shoe trees. I prefer wooden ones because they're usually made of aromatic cedar, absorb moisture, and prevent cracking, along with keeping the shape of shoes while also deodorizing them. When storing purses, first stuff them properly and insert into a soft, breathable dust bag. Dust bags are key as they protect handbags from dust, color transfer, excess moisture, etc.
"For garment storage, a helpful tip is to stuff bodices and delicate items with acid-free paper. On the flipside, definitely avoid plastic garment bags over clothes, as this does more harm than good by inhibiting fresh air to circulate. The golden rule is that just like us, our garments need to breathe to prolong the fabric's integrity, so you can enjoy wearing the pieces for years to come! Investing and identifying the right hangers to use per style is crucial for maintaining care for your pieces, too. For shirts, use wooden hangers, whereas with coats and suiting, try molded hangers. When storing hangers in the closet, ensure that hanging items are not crushed and instead leave ample space within them. For those with smaller closets, we recommend using lightweight and durable flocked hangers to prevent those silky blouses from sliding around or falling off the hangers."
Store Off-Season Clothes with Care
BS: "When I used to store my winter clothes, I would give them a good shake and clean whatever needed a good TLC. To prevent moth holes, keep the clothes away from moisture and do not store them under your bed, as this is the prime place for moths to feast on. Also, space-saver bags are great, but make sure these are air-tight! Invest in solutions to keep moths out naturally. Moth repellent and cedar blocks are good to buy from The Container Store. With proper care, cashmere and knitwear can last for years."
Take Care of Your Knitwear
BS: "Yes, make sure knitwear is folded correctly just like it would be in a store and avoid creases or bends. Before storing, protect your investment by getting your knitwear professionally cleaned. This is an important tip to extend the life of your sweaters. When storing, choose a cool, dry location. From a short-term perspective, keep sweaters in an airtight container. Long-term, it's better if the pieces can breathe in an open-shelf space. Adequate cleaning for knitwear is crucial for prolonging the pieces. People forget that moths tend to lay eggs in knitwear, so it's good to disrupt how they've embedded into those holes."
LW: "If you're buying luxury items and are not pressed for time, I would always leave it to the experts or call the designer brand of the respective item itself. Some things to do yourself? While I can't sew a button, buttons are okay to mend yourself if you can! Another tip to reinforce buttons is to use a little dab of clear nail polish on the threads to strengthen them. Everything I own has to be hemmed, as I'm only 5'2″; in a pinch, I use hemming tape and an iron as an effective, quick fix. I also love taking the mini-sewing kits from hotels! These are great to have on hand for little emergencies."
The Items That Warrant a Garment Bag
BS: "Cloth, furs, and leathers should be stored in the back of your closet with some sort of ventilation form in a garment bag."
What About Dry-Cleaner Bags?
BS: "Plastic wrap and dry-cleaning bags are not ideal. As soon as you bring your dry cleaning home, immediately take the plastic off and air out the piece to let the chemicals breathe out of the garment."
If the Garment Has a Shoulder Pad
BS: "Molded hangers are ideal for pieces that have structure or shoulder pads. If you don't have a molded hanger, you can take tissue paper and create a mock mold for the shoulders."
LW: "Any piece that has embellishments should be separated from other fabrics. Say you have an embroidered gown and a Missoni knit dress—well these won't do well next to each other."
Pay Attention to Details Like Zippers
BS: "A good trick here is to take a lead pencil and strike the zipper by running it across it, which helps with the glide of it. Zippers tend to oxidize. Sometimes you'll find old jeans, and you'll see oxidation on the zipper. But, don't fret! This is totally normal and is a result of a chemical reaction occurring."
LW: "Dry cleaners can be trusted when dealing with delicate vintage pieces. It's also really important to bring your pieces to get professionally cleaned before storing. Through word of mouth or research, definitely look into who you're going to for top quality. As mentioned earlier, opening the dialogue with your dry cleaner is imperative. Ask questions, such as what brands have they dry cleaned, if they have satisfied customers, etc."
LW: "This really depends! So, for cotton and harder fabrics, I like to iron. When you do iron, however, you do not want to hard-press too much because this will cause more wear on the actual product. Also, always remember to check your iron setting! For wool, silk, and chiffons or any synthetic fiber, steaming is the way to go. Be cautious about over-steaming, as well. With evening dresses for example, the more you steam, the more it breaks down the memory of the fabric."
BS: "OxiClean! It's such a reliable and consistent product and comes in handy more often than you'd think. If you have whites and stubborn items, it's a great choice. I'm also fond of and inspired by Blueland, a newer brand that creates eco-friendly cleaning products without any plastic waste. They have a new Laundry Essentials Kit, which was definitely a really smart, creative idea."
LW: "I'm always on the go and moving a million miles a minute, so I love anything that I take on the road with me to freshen up items. One of my favorites is Grove Collaborative's Ultimate Laundry Essentials Set—I live for their wrinkle release. Brian and I are always on the hunt for wardrobe fixes, and on our recent visit to The Container Store, we ran into these Cedar & Lavender Balls that give your closet and the garments inside a fresh feeling."
window.REBELMOUSE_ACTIVE_TASKS_QUEUE.push(function(){
!function(f,b,e,v,n,t,s){if(f.fbq)return;n=f.fbq=function(){n.callMethod?n.callMethod.apply(n,arguments):n.queue.push(arguments)};if(!f._fbq)f._fbq=n;n.push=n;n.loaded=!0;n.version='2.0';n.queue=[];t=b.createElement(e);t.async=!0;t.src=v;s=b.getElementsByTagName(e)[0];s.parentNode.insertBefore(t,s)}(window, document,'script','https://connect.facebook.net/en_US/fbevents.js');fbq('init', '1248680838922690');fbq('track', 'PageView');
});
window.REBELMOUSE_ACTIVE_TASKS_QUEUE.push(function(){
window.REBELMOUSE_STDLIB.onElementInViewport({ threshold: 400, selector: "video", oneTime: true, onIntersect: function(entry){ var element = entry.target; element.setAttribute("allow","autoplay"); element.loop = true; element.muted = true; element.autoplay = true; element.setAttribute("playsinline","true"); //element.controls = false; element.play(); } });
});
https://coveteur.com/maintain-vintage-fashion