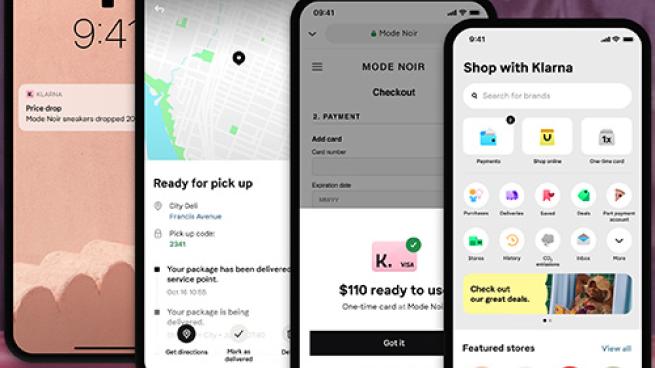 Klarna introduces universal shopping app
Klarna is launching a new mobile app designed to eliminate the problem of consumer app
Klarna is launching a new mobile app designed to eliminate the problem of consumer app fatigue.
The global payments provider and shopping platform has released its all-in-one shopping app across its global markets. The new Klarna app provides a shopping browser that enables users to shop at all online stores, including those that have not directly partnered with Klarna. The app also allows consumers to explore exclusive deals and personalized shopping collections, save items and unlock price drop notifications, view items' delivery tracking, and manage payments and returns.
Klarna's new shopping feature also provides users with interest-free flexible payments at all online retailers. To shop online retailers that are not directly affiliated with Klarna, customers can use a free virtual one-time card. To shop via one-time card, app users visit an e-commerce site, discover products and add them to their basket, press the pink "pay with K" button, create a one-time card for the value of your purchase, choose to pay later and review their plan, and copy and paste their one-time card details into the checkout. The process is then complete.
Other features include curated content based on consumers' interests and their favorite stores, exclusive deals and price drop notifications that can be unlocked, delivery tracking on all Klarna and non-Klarna bought items, spending overviews and monthly budgeting, and one-click payments, report issues, and returns.
According to Klarna, additional features will soon become available, including a collective loyalty card space; additional money-saving tools; social features such as live shopping events and product data that will make price history, reviews, and store availability visible; and more. Klarna will also enable third-party integrations going forward to provide more solutions and services delivered via the app. 
Klarna has been expanding into new areas of digital commerce in recent months. In July 2021, the company purchased Hero, a social shopping platform designed to provide consumers with inspiration, advice and immediately shoppable content produced directly from retailers' physical stores. The company will introduce Hero to its 250,000 retail partners, allowing their in-store teams to become content creators and offer reviews, real-time advice and content around products to bring in-store shopping features to the online experience.
And in September 2021, Klarna jointly entered the livestream shopping space in partnership with clean beauty brand Beautycounter, airing a four-episode livestream shopping event.
"Today people seek simplicity that solves for their specific needs in one place and enables a range of activities across their shopping journey," said Sebastian Siemiatkowski, CEO of Klarna. "Switching between apps is something we as consumers find more and more frustrating. Today we are announcing a major milestone on our journey to helping people save time and money and giving them more control over their finances. With the introduction of our new app, Klarna becomes an end-to-end shopping service that caters to many needs – from inspiration and discovery to seamless post-purchase experiences. Meanwhile, we've made transparent and flexible payments a possibility everywhere because we believe no one should ever have to pay credit card fees or high-interest rates." 
The new Klarna app is available to download for iOS and Android mobile devices in the U.S., U.K., Australia, New Zealand, Germany, Austria, Spain, Netherlands, Belgium, Sweden, Finland, Norway, Denmark, Poland and France. 
https://chainstoreage.com/klarna-introduces-universal-shopping-app