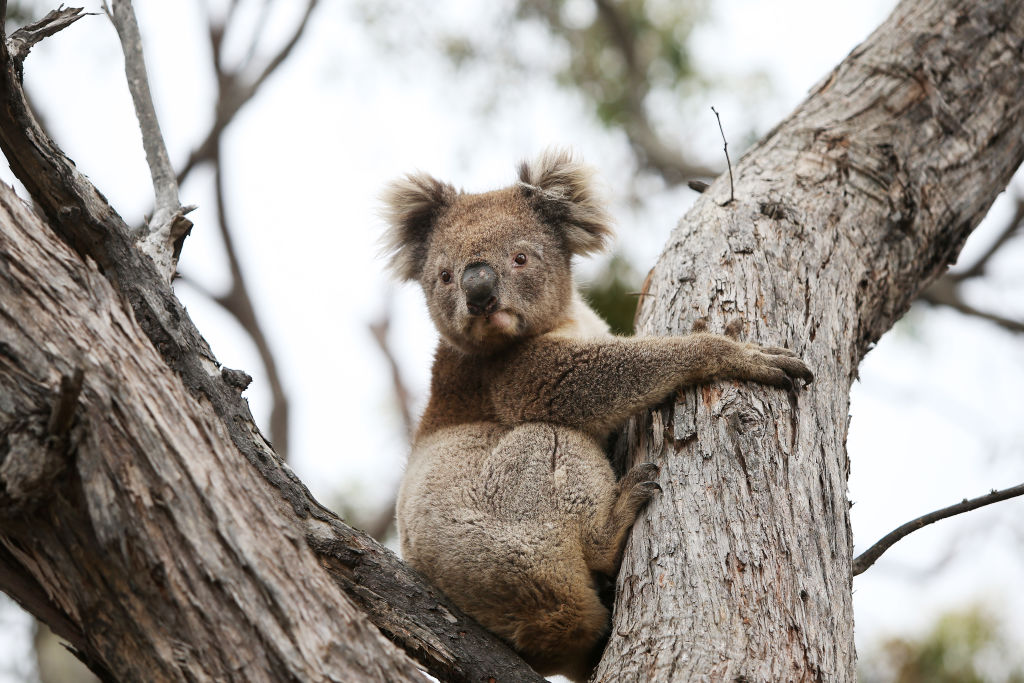 Koala Riding in an Aldi Shopping Cart Shocks Customers
Customers at an Aldi grocery store in Portland, Australia were shocked when they saw a
Customers at an Aldi grocery store in Portland, Australia were shocked when they saw a man pushing around a koala in a shopping cart over the weekend.
The man, Peter Elmore, told local news that what customers were actually witnessing was an attempted rescue. Elmore said the koala was cornered in the parking lot and he decided he had to intervene.
He said he was in town for a trip with his wife when he decided to go to the Aldi grocery store on Saturday. But his grocery store run was anything but normal after he found a lone koala trapped in the parking lot.
"She was trying to climb the high wooden fence and kept falling," Elmore told 7News Australia. "And because koalas can't put their arms out to protect themselves when they fall, she kept landing on her head and bashing her face."
Elmore said that at one point he saw an elderly man nearly hit the koala with his car and he knew he had to intervene.
Elmore and his wife are both wildlife volunteers and have experience rescuing wildlife, including koalas. He told a local news outlet that this wasn't the first time he'd helped out a koala since there are many where he and his wife live.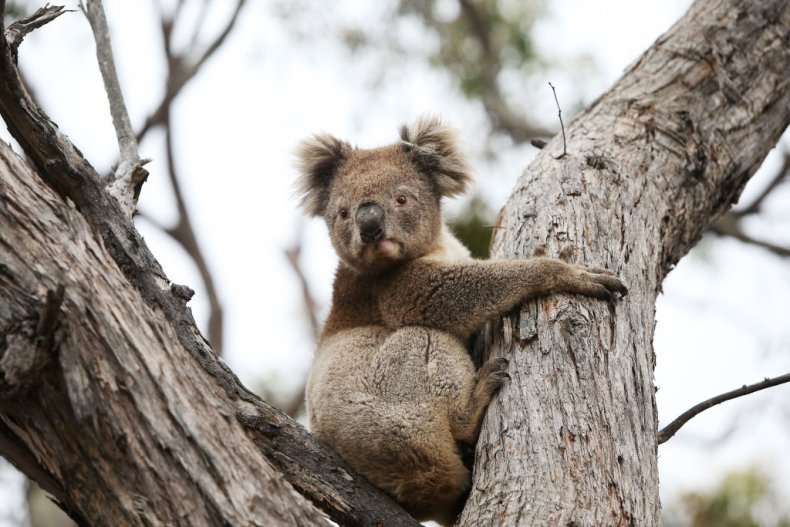 Since 2018, the koala population in Australia has dropped by 30 percent. The bushfires that raged throughout Australia from 2019 through 2020 are partially responsible for the large population decline.
Due to their slow nature, koalas were particularly vulnerable to the fires that harmed more than 3 billion animals across Australia.
Elmore explained that he wanted to place the koala in his car but remembered that his dog was in there. He said he was happy to carry her, but when he saw an Aldi shopping cart waiting in the parking lot, he dropped her in.
Elmore said the female koala was grateful to be rescued and that she was quite relaxed throughout the process.
"Male koalas can be a little more feisty," Elmore explained. "But she was relaxed in the trolley and was happy for me to move her around."
He said he only had to push the Aldi shopping cart for about 100 meters (328 feet) before he hit some bushland. That's when the koala happily climbed up a tree in someone's backyard.
"It was a happy ending," he said.
Footage of the rescue was also posted to TikTok by user @cherrymaeferrer showing Elmore carefully pushing the female koala in the cart past the front of the store.
The video caused some backlash from wildlife experts who warned that koalas could become extremely stressed in that situation.
People who witness a native animal in need of assistance are encouraged to contact their local wildlife emergency response service. People are advised not to intervene and to allow trained volunteers to assess the situation.
An Aldi spokesperson told News7 that although they appreciated Elmore helping the koala, the animals are not allowed inside their stores. They also said they encourage people who see wildlife in odd places to contact wildlife emergency response services rather than intervene themselves.
https://www.newsweek.com/koala-riding-aldi-shopping-cart-shocks-customers-1670823