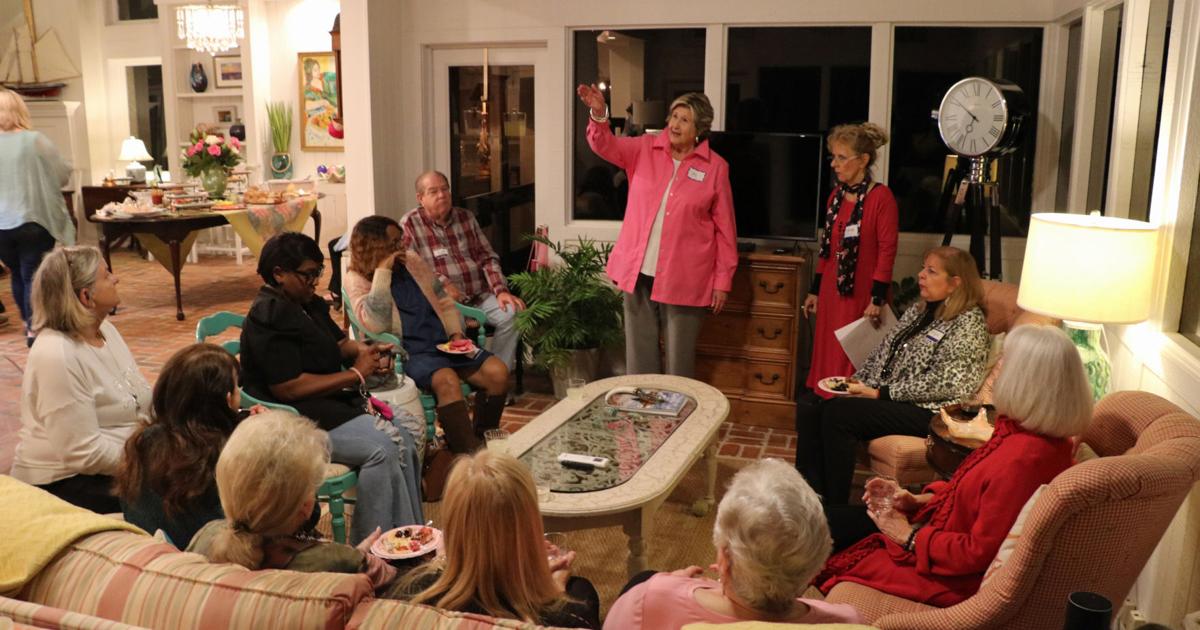 Local branch of ACS to hold fashion show Feb. 5 | Life
Unlike many diagnosed with breast cancer, Sherrie Beecher never felt a tell-tale lump. But as
Unlike many diagnosed with breast cancer, Sherrie Beecher never felt a tell-tale lump. But as someone with a family history of various cancers, she was diligent about her health, receiving her regular mammogram each year. It was one of these appointments in 2007 that changed the course of her life.
"It wasn't a lump, but it was a nest of cancer cells. So after they found that, I was referred to a breast cancer specialist in Savannah. I went around visiting all of the other doctors — the oncologist, the radiologist — I think there were four or five … it was a really scary and overwhelming day," Beecher recalled. "I was overloaded. I had to really take time to process it before I made any decisions."
Once Beecher got a little distance, she was able to map out her treatment course. She chose to have a mastectomy with reconstruction. And because Beecher selected that path, she avoided chemotherapy and radiation. However, it was the early detection that really made the difference.
"That's why I tell everyone to keep up with their mammograms. With my family's history, I really felt like it was just a matter of time before I would have my turn with cancer … but thank the Lord, I'm far out from it now," she said.
Everyone who has heard the shattering words — "you have breast cancer" has their own story. For Angie Votsis, hers came during a time of additional stress and a surge of the coronavirus cases in the summer of 2020.
"I was due for a mammogram and questioned whether I should go to the hospital because of COVID … there were over 70 COVID patients hospitalized at that time, but I went," she said. "I was informed I needed to come back for a second mammogram and I would receive results immediately following the exam."
It was indeed cancer, but like Beecher, it would have gone undetected had she not gone through with her mammogram.
Votsis scheduled her cancer treatment appointments around the arrival of her grandson in Chicago. She moved forward with surgery, and she only needed radiation because the cancer was contained.
"I had radiation daily beginning in January and ending in February 2021. I was subbing as a counselor at Goodyear at the time, so I went down the street to the hospital after work," she said.
"Everyone from the technicians, to the nurses and doctors were so kind and compassionate. I was blessed to have the support of immediate family, church family, friends, neighbors and even former students during my cancer journey."
Robin Nunn had a different experience. She had an underlying condition, which made her diagnosis and treatment much more difficult.
"No one in my family had had it, so it was really a shock when I was diagnosed in 2015," Nunn said.
"I was then diagnosed a second time in August 2019, which was high risk because I had an underlying issue with MS. I had surgery, chemo and radiation. I was really nervous because of my condition. I ended up in Magnolia Manor because I couldn't walk, so it took a while to be able to walk again."
With each of these women, the path was obviously not an easy one — but they endured. And their strength and courage will soon be on display.
The three ladies will join other women (and men) who are also breast cancer survivors as models in the American Cancer Society's Fashion Show & Luncheon. It will take place Feb. 5 at Sea Palms Resort on St. Simons, after being moved from the original October date due to the pandemic.
Doors open at 11:15 a.m. The event will include live and silent auctions, as well as the sale of the "pink box," a mystery giveaway.
Tickets are $50 and will be on sale through Jan. 28. Those may be purchased at Cunningham Jewelers, Gentlemen's and Lady Outfitters and Saint Simons Drug Company.
Co-chairs Joy Cook and Rhonda Barlow have assembled a number of survivors to showcase the latest styles from area merchants. Connie Hiott, volunteer and marketing coordinator for the show, says the ladies have done a stellar job in lining up all of the particulars.
"Joy and Rhonda have just been phenomenal … really the whole committee has been. All of these models are locals and are people in our community who are receiving or have received treatment right here," Hiott said.
"It's so wonderful to see the way that people turn out to support them and cheer them on. They can be a little skittish about being models in the beginning but they end up having so much fun."
Of course, in order to really build the models up, they need a room full of participants. Hiott is hoping that the community will continue to show up for them the way they have in the past. And the models are certainly looking forward to their time to shine. Votsis also feels it will be incredibly poignant to support her fellow survivors.
"When I was diagnosed with breast cancer, I joined a huge 'club.' I also realized what a long way we've come in the past 50 years with diagnosis and treatment," Votsis said.
"Raising funds for research is critical. I want to participate in the fashion show with my fellow club members to contribute in a small way to this effort."

https://thebrunswicknews.com/life/local-branch-of-acs-to-hold-fashion-show-feb-5/article_73baeee1-560e-5089-bed7-d26ec544a2d3.html