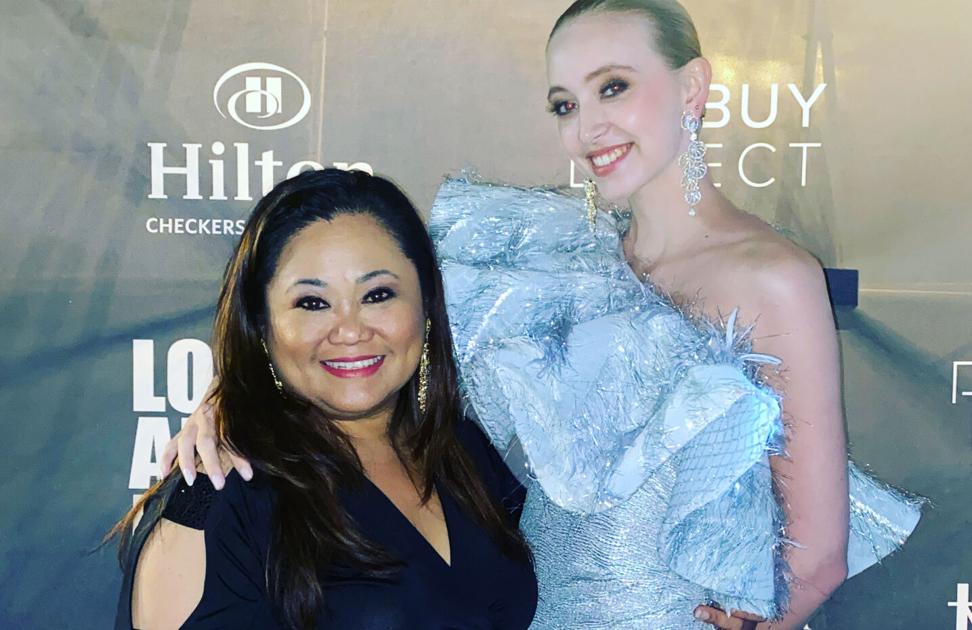 Longview jewelry designer takes part in LA Fashion Week | Local
Theresa Guck never thought her jewelry business would lead to her being featured at one
Theresa Guck never thought her jewelry business would lead to her being featured at one of the nation's premier fashion events, but that's exactly what happened this past month.
While the Longview woman has a background in art doing murals and paintings, and once made a collection of dresses out of recycled materials, Guck had no formal training or experience in jewelry design when she started IXXIA Jewelry earlier this year.
That didn't stop her from pursuing what she says is God's calling.
Guck said the goal of IXXIA Jewelry is to spread love, kindness and happiness to everyone.
She said she first met fashion designer Alexis Monsanto in 2016 at the International Presentation of Performers. She was in attendance because her daughter was one of the performers at the event. Guck said she briefly spoke to Monsanto but lost touch with him.
Guck's jewelry was then worn by a contestant at this year's Miss Universe pageant, where Monsanto recognized it and reached out to Guck.
Monsanto told her he saw something in Guck and wanted to mentor her.
The two then collaborated on the jewelry designs based on Monsanto's spring-summer '22 collection titled "Beautés de la Nature".
In October, Monsanto showcased his collection, with models wearing IXXIA Jewelry, as part of Art Hearts Fashion and Los Angeles Fashion Week.
Art Hearts Fashion "is the leading platform dedicated to bringing innovative designers and artists to the forefront of fashion week," according to its website.
Guck said she met a designer in 2017 who came from Art Hearts Fashion, and "I never thought that I would be there. I never thought I would be in that same fashion show."
Monsanto's collection was the finale during one night of LA Fashion Week, and as his show wrapped up, Guck was surprised when he asked her to walk down the runway with her.
"He asked me to walk with him, and that never happens. Normally designers only walk by themselves with their models," Guck said. "Seeing the IXXIA name on the screen while the models were walking was a game changer. I'm like, is this even real?"
During her time in Los Angeles, Guck said she met a lot of people and learned a lot about the industry.
"When I was there in LA Fashion Week, I was stopped by visiting Filipino designers, and they contacted me. Instead of having only one designer using my pieces, I had five designers using my pieces during that week," Guck said. "It's so unreal because they contacted me and said, 'Hey, I heard you're here, can you help us?' I was only there to help one designer, and I left helping five."
She said the experience at LA Fashion Week also opened the door to new opportunities. During a show, one of the models needed a centerpiece for his look, so Guck took a belt buckle and turned it into a necklace on the spot.
"It's like one of those unplanned things that needed to be done," she said.
After the event, several male models asked if she could make something similar for them, something wearable that they could sport every day. That evening's happy accident inspired Guck to start making men's jewelry.
"For me, this is an opening for IXXIA. Coming from a small town like Longview … (can) inspire other people that there is nothing impossible. If you just let God use you, He will open doors for you. For me that is the most important part of this collection."
https://www.news-journal.com/news/business/local/longview-jewelry-designer-takes-part-in-la-fashion-week/article_be0c8b9c-3c1a-11ec-aad7-13cae1d1f605.html