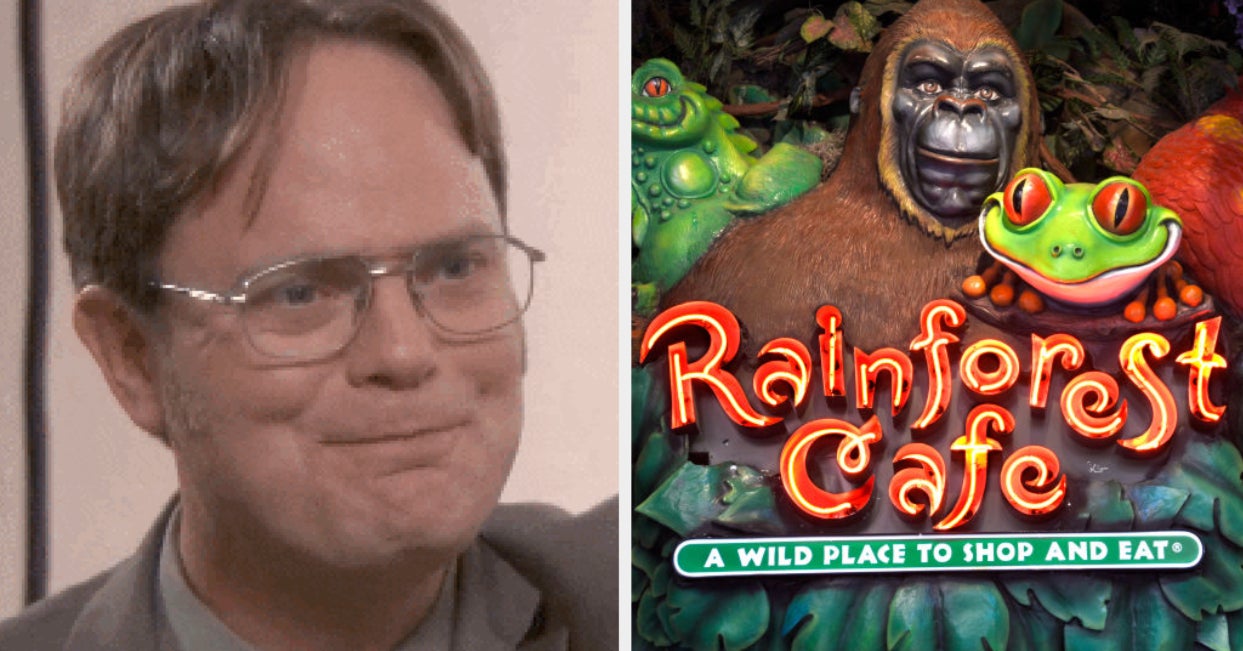 Ranking The Best 21 Restaurants In The Mall
Table of Contents As Robin Sparkles (aka Robin Scherbatsky) once sang on How I Met
As Robin Sparkles (aka Robin Scherbatsky) once sang on How I Met Your Mother, let's go to the mall!!!
With online shopping and the world at our fingertips, malls are becoming more and more obsolete. Though shopping on the internet is super convenient, it takes some of the fun out of the experience. Plain and simple: I miss mall culture.
Sitting in a massage chair at Brookstone, buying a hideous, neon phone case from a kiosk, choking on the cologne in Abercrombie & Fitch — I miss it all. But there's one particular aspect I miss the most, and that's the food.
I was feeling nostalgic (and hungry), so I decided to rank all of my favorite food-filled stops in the mall. Without further ado, let's dive right in!
When I wanted something cold after trying on too many cardigans at Aéropostale, Orange Julius was there. Though Orange Julius wasn't usually the mall spot that really "did it" for me, their icy, little concoctions still got the job done.
They didn't always have a huge variety, but if they were the only option, great, let me have something with strawberry or pineapple in it. Otherwise, I'd opt for a place with more to choose from! Even so, I do miss having the opportunity to visit one of these stands.
Mamma mia, that's a mall pizza! I can't even look at a Sbarro without thinking of the scene in The Office where Michael visits New York City and goes to the Sbarro in Times Square for an "authentic slice." So good.
Anyway, while I rarely turn down a slice of pizza, Sbarro never felt like a treat in the same way other food court options did. It's not hard to come by a piece of pizza in most places. But sometimes it can be really hard to convince your mom to stop at McDonald's or Taco Bell, unless she's stuck with you in a mall for four hours back-to-school shopping. I feel like pizza's just too easy of an option, and when you're at the mall, it's go big or go home.
One time, Jamba Juice gave me ✨ tummy troubles✨ in an airport, so I'm not sure where we stand anymore, TBH. Even so, before the trauma of it all, I liked what I was sippin' on!
The menu has a pretty decent variety, and I feel like there's something for everyone. I've never tried anything besides a smoothie, and I feel like that's as far as I'm willing to take it. Smoothies can really hit the spot, so I'm never mad to be near a Jamba, but it probably wouldn't be my first stop.
If the lines were long at some of my favorite food court establishments, I'd find myself building a 6-inch turkey sub at Subway. Have you ever noticed how all Subways smell exactly the same? And that smell is STRONG. I'm not mad about it — it's just so funny. You always know when there's a Subway nearby. And if you stand inside one for too long, the smell becomes a part of you.
Anyway, the Italian herb and cheese bread has such a hold on me. I can still taste it. I also loved grabbing a bag of Garden Salsa Sun Chips or Nacho Cheese Doritos to accompany my sandwich. What a balanced mall meal!
I love Panera, I really do, but it's not usually the most enticing option in a mall food court. Nevertheless, if it's what the group wants, you won't find me complaining!
Let me get a Pick Two with a side of bread. ALWAYS a side of bread. I can eat an apple on my own time — give me the baguette!
I go buck wild for orange chicken and sesame chicken, so you can imagine how I feel about Panda Express. Will it give me a tummy ache? Ehhhhhh. Sometimes, you can't be bothered. Sometimes, you need to drown in that sticky orange chicken sauce after a long day of window shopping at Claire's and Delia's.
Mrs. Fields, you own a piece of my heart. Cookies are already one of the most perfect desserts ever created, but Mrs. Fields kicks it up a notch! These bad boys are made with love — you can just tell. Resisting the urge to order an entire tin online as we speak.
I'll take a chocolate shake and some fries, please! Wait, make that an order of onion rings. Actually, can I do a chili dog? You know what — just bring it all. Thanks!
I've never been to a Johnny Rockets that didn't absolutely rock my world. Every meal has sent me to the moon and back. Ha-ha, rocket jokes. But seriously, I've been a fan of this place since I was like 5. I wish I could down a basket of fries right the hell now.
My first visit to The Cheesecake Factory was in a mall with my grandma and my cousin. We wanted something sweet while out on our shopping trip, so my grandma made sure we had just about the sweetest, most decadent thing imaginable. And that, my friends, is how you give an 8-year-old a stomachache (and the time of her life)!
When it comes to cheesecake, anything with chocolate, marshmallows, caramel, or peanut butter is an automatic win. Or let me have them all — the more, the merrier! Though my first visit to The Cheesecake Factory may be a bit of a sugary blur, I know it awoke something in me.
WELCOME TO MOE'S!!! And you will feel welcome, indeed. I've never been a Chipotle gal. Had it once, liked it enough, moved on with my life. My allegiance is with Moe's, and all the memories we've made in malls across the country. They've just nailed portion sizes and that queso recipe.
I'm a sucker for root beer, so yeah, I'm a fan. I feel like this chain flies under the radar and doesn't get the mainstream hype it deserves. It's gooood.
I want to swim in one of their root beer floats. I want to hula hoop with one of their onion rings. I want to…you get the picture. Hey, pour me an ice-cold root beer, would ya? The line at Build-A-Bear stretched all the way down to Bath & Body Works. I need something to take the edge off!
McDonald's in a food court just hits different. There's something about smelling those fries as you exit a Forever 21 that just makes SENSE.
I guess mall McDonald's also just have a special place in my heart because it's the lunch my little, Italian grandmother and I would grab after a long day of shopping. This woman was the best cook in the world, but she would go absolutely feral for a Happy Meal. Good times.
Let it be known that I adore ice cream. It's so great that even many lactose-intolerant people risk it all to chow down on a cup or cone. Well, if any ice cream place is worth the pain, it's Häagen-Dazs.
Häagen-Dazs is the master of decadence. Every flavor is sinfully rich. Don't even get me STARTED on their Irish cream brownie flavor. WOWZA. (This isn't even an ad — I'm just so passionate.) If you were so lucky, you could get a scoop while your mom tried on sandals at Foot Locker. As a child, I made the rookie mistake of defaulting to their most basic flavors, but I've learned my lesson now. Go for the gold!
Remember when Wendy's had yellow cups? Thooose were the days. I just want to sip lemonade from a Wendy's cup and pretend I'm NOT eyeing the back section of a Spencer's.
Like I said with McDonald's, Wendy's from a food court always slapped harder for some reason. It's like being in a mall changes your sense of taste — everything becomes heightened. You can't compete with it!
Cinnabon, please hear me out. I'm DTF (down to feast) whenever you're ready. Heaven is a Cinnabon cinnamon roll, and lord knows I need saving. So, let's roll.
Dippin' Dots perfectly encapsulates the idea that less is more. Sure, you may not really be getting THAT much ice cream, but boy are you getting an experience!
I would trip over myself to run to a Dippin' Dots stand. They were hard to come by in the outside world, unless a stand happened to be set up at a zoo or baseball game. Because it was so hard to know when I'd see those precious dots again, I'd seldom conclude a mall trip without tracking down their stand.
Ding, ding, ding, that beautiful bell is ringing! Much like McDonald's, Wendy's Subway, etc., you can go to a Taco Bell just about anywhere. It doesn't have to be a mall. There are like four within walking distance of me now. That being said, the ambience of eating at a mall Taco Bell is second to none. It's that food court magic. Give me something cheesy and something crunchy, and I won't even complain when we spend 45 minutes looking at towels in Belk.
Throw in a Baja Blast, too, just for fun! It's the only time my body can process Mountain Dew.
Please, never leave me. Watching my former favorite, local Steak 'n Shake turn into a random BBQ restaurant absolutely broke me.
The diner ambience, the succulent shakes, the seasoned fries, the GARLIC BURGER — come on!!! Please don't take my sunshine away! It's hard enough that mall culture is dying, but please don't rob us of these restaurants too. Let them live!
I just want to personally thank Sarku Japan for all the free samples I've had over the years. I used to pace back and forth across the food court just to snag an extra piece of teriyaki chicken. But seriously, those teriyaki plates were UNREAL. After a long afternoon of waiting in the H&M dressing room line, this was the perfect mall meal.
Deep in the mall lies an oasis — an oasis that happens to serve some pretty tasty apps. Welcome, friends, to the Rainforest Cafe.
Talk 👏 about 👏 ambience!!! I'll admit, as a toddler, I cried in a Rainforest Cafe because their sound effects really freaked me out. But I grew to appreciate the ~wild~ experience. I know I'm cheesy, but I am so down for themed restaurants. Make it immersive! Transport me out of this mall and into another land!
There could be no other #1. Auntie Anne's is the epitome of perfection. This soft pretzel sanctuary has truly never let me down.
My biggest complaint is that Auntie Anne's is ONLY found in malls (and airports, I guess). Why are we denying the people their pretzels? Petition to make Auntie Anne's a stand-alone establishment! It's time! #PretzelsForThePeople
There you have it! I hope you are as ravenously hungry as I am. Did I miss any places that you loved visiting in your mall food court? Do you think a different restaurant deserves the #1 spot? Tell me about it in the comments!
https://www.buzzfeed.com/hannahdobro/ranking-best-mall-food-court-restaurants