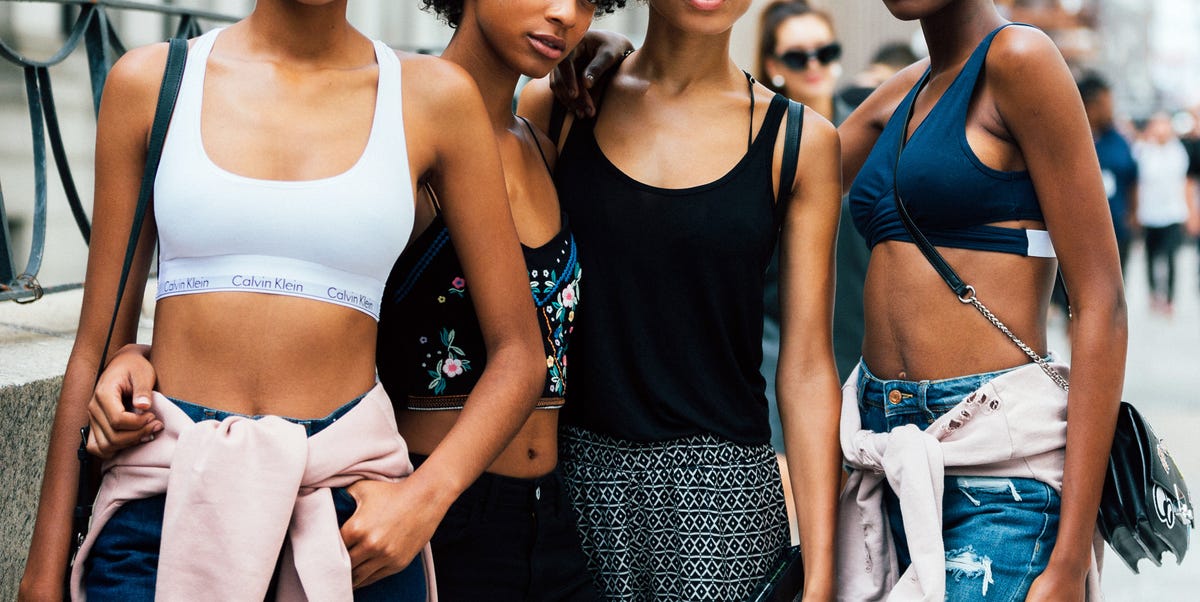 The 33 Best Workout Clothes on Amazon
There's nothing quite like a cute workout outfit to incentivize ourselves to get moving, whether
There's nothing quite like a cute workout outfit to incentivize ourselves to get moving, whether we're hitting the gym or finishing a lengthy checklist of errands. From playful sets to flirty tennis skirts to functional base layers, we scoured Amazon for the best (and cutest) workout clothes. Ahead, your ultimate guide to affordable Amazon activewear finds under $40 that boast a quality that feels thrice the price.
Seamless Sports Bra and Shorts Set
Coming in 17 colors and prints, this sports bra and biker shorts set is thick, doesn't bunch up, and will make you look and feel great. One reviewer confirms, "I love this set, it's so thick and compresses the tummy area. Squat proof and comfy. Even my ex contacted me after posting this on my story."
Ribbed Sports Bra and Leggings Set
Why sacrifice style for functionality when you can have both? This ribbed one-shoulder sports bra and leggings set comes in eight playful colorways and is sure to keep you comfortable and supported. One reviewer gushes, "Super high quality and definitely squat proof. I wore this through a fifty minute cardio pilates class and it stayed in place the entire time."
Ribbed Sports Bra and Shorts Set
This seamless bra and shorts set come in eight sophisticated shades with a ribbed detail that gives way to just enough elasticity so it's ridiculously comfortable while keeping you supported. A reviewer shares, "It fits perfectly. It looked like I was photoshopped in real life. The top has padding in it so it will shape you and push you up and the bottoms are very secure and will suck you in."
Crop Top Bra and Shorts Set
Need a mood boost? Look no further than this fun, flattering sports bra and shorts set. Coming in thirteen vibrant colorways, this thick set holds you and features adjustable straps for the perfect fit.
Ribbed Leggings and Sports Bra Set
With full back coverage and a playful neckline, this seamless ribbed sports bra and legging set comes in eleven shades. One reviewer raves, "Such good quality for the low price. I want it in every color. Especially the top omg talk about tata lift!"
Leggings and Sports Crop Top Set
If you're in the market for a set that does it all, look no further. This crop top can double as a sports bra, the leggings feature an ultra-high waist so you're comfortable, and you're bound to find a color or three that you love among their seventeen options. A reviewer confirms: "The material is buttery soft and I don't have to keep pulling my pants up. […] I felt comfortable and able to do all movements throughout my workouts."
Biker Shorts with Pockets
With over thirteen thousand reviews, these Amazon-favorite biker shorts come in 24 prints and colors and will carry you from your morning yoga class to every errand you could possibly need to run. The best part? Two words: deep pockets.
Printed Biker Shorts with Pockets
Who said activewear had to be boring? Check out these printed biker shorts that come in six fun prints. A reviewer shares: "Despite the soft and stretchable material of these shorts, the pockets are decently sized, as I can fit my credit card and phone (iPhone 11 pro max) in one pocket just fine. The high-waist feature is nice too."
Flowy Exercise Shorts
Maybe you've spotted these on TikTok, or maybe you haven't, but we're here to tell you—get these shorts (they come in ten diferent colors!). The flowy exterior is layered with fitted shorts underneath for a feminine skort effect. 
Quick-Dry Running Shorts with Pockets
Let this one reviewer explain it all to you, "These shorts are PERFECT for running! They stayed in place the whole time, they are the perfect lightweight, sweat-resistant material, and a good length!" They feature pockets, too— need we say more?
Pleated Tennis Skirt with Pocket
May we present to you: the most perfect tennis skort. The retro pleated design makes it perfect to wear on the courts or out on the street. The wide waist band is shockingly stretchy so it'll never dig into you. And we saved the best for last—there is a dedicated pocket for your phone sewn onto the fitted shorts underneath. We told you it was perfection.
Pleated Tennis Skirts with Pockets
This skort is the best of both worlds with a sleek front and pleated back to flatter you from every angle. There's a zippered pocket so you can ensure your keys are secure in addition to deeper pockets on the undershorts.
Active Skort with Pockets
Need to switch up your workout routine? Have you tried channeling Clueless? This flirty active skort comes in 16 different playful prints and colors. And there are pockets!
Tennis Golf Skort with Pockets
It doesn't get more flattering than this active skort. With a fitted waist and flirty pleated a-line skirt, it hugs all the right places. The undershorts pocket is so deep it can hold your phone or more aptly, tennis balls.
Active Dress Dress
Dresses have always had a way of eliminating the "what to wear?" situation. This workout style leaves you looking as polished as ever, plus it features built-in compression shorts and a mesh back panel.
Racerback Sports Bra Set
With almost fifty thousand reviews, these racerback sports bras will surely tame your girls for a comfortable, fuss-free workout. One reviewer confirms, "I'm a DDD and have a hard time finding sports bras that aren't too large on my petite frame. Not the case with these bras! The material is durable yet stretchy. I feel contained."
Strappy Sports Bra
Coming in ten prints and colors, this statement back sports bra is a showstopper for lower impact workouts. 
Criss-Cross Back Padded Sports Bra
This workout tank with a built in bra and an elegant twist detailing at the back will change your athleisure game. A reviewer explains just how versatile this top is, "The coverage is great and I can wear it to sleep without my girls falling out of it, to my Turbo Kick class, and to play volleyball and feel fully supported. It is also surprisingly stretchy, enough that I can pull it up or down to nurse my baby."
High Neck Longline Sports Bra
Elevate your leggings look with this high neck top that features a built-in sports bra. Available in ten sophisticated colors, this active top is great for a workout just as much as it is going out.
Sports Bra Tank Top
One of the 42 thousand reviewers gloats, "This is the perfect workout tank! Good support but not flattening. It's super flattering and a perfect length for anything high-waisted." All true.
Longline Active Top
Looking for a perky lift while keeping everything in? This flattering and buttery soft tank will carry you through your workout in style. Take it from this reviewer, "This bra feels very well made and has a buttery soft feel. The straps don't dig at all. There is no digging and no side boob or underarm fat spillage for me. This makes my boobs sit way up and say hello! Now they are secured in the bra and I don't feel like they will come out."
Longline Sports Bra
In the market for a sleek top that is just as stylish in or out of the gym? One reviewer shares, "The fabric is so soft, stretchy, and opaque yet sleek enough where it won't pill. The fabric hugs me in and doesn't gape at my waist. There is a lot of structure to the top which aids in providing medium support and functionality to the top even without adjustable straps."
Longline Drawstring Sports Bra
 Sometimes we love a crop top and other times we just aren't in the mood. Adjust this top's length to your liking with the sweet scrunched front detailing that adds the perfect touch of femininity. 
Sports Bra Crop Top
Looking for the perfect cropped tank? Look no further—this elegant padded high neck tank looks as stunning for a day out as it does in the gym. Plus, reviewers confirm how ridiculously comfortable and flattering it is. "I could easily own every color they make, wear one every day and replace my actual bras. They are that comfortable!"
High Waisted Leggings
Looking for a no-frills legging that is unbelievably soft? These 7/8 ankle leggings come in 29 prints and shades. One reviewer explains, "These are the answer. They are still extremely comfortable and buttery soft, and I can wear these all day. The color is completely matte with no reflection or sheen. The V-yoke seam on the back is very flattering and the waist tapers in. Squat-proof with dark and light underclothes!"
Printed High Waisted Leggings
If statement prints are more your thing, these high waisted leggings come in 35 colors patterns. A reviewer gushes, "So soft like butter, like a velvet feel."
7/8 Leggings with Pockets
For a durable pair of ankle leggings that are sure to flatter you from everything angle, we think we've found you a winner. One of the 40 thousand reviewers shares, "This pair in particular was far better for me personally than its 'buttery soft' counterparts. I've had 6 kids, so I have mama fluff and prefer athletic pants with more waist support. These stay tight and in place all day and help flatten my tummy." Not to mention these also feature deep pockets so you can go hands-free.
Printed Leggings with Pockets
It's always more fun with a print. Browse the 23 prints and shades of pocketed leggings and you're sure to find a pair or three you're in love with. A reviewer confirms, "These are by far the most soft and flexible fitness leggings I've ever owned!"
Drawstring Joggers with Pockets
These pile-resistant joggers are the clean, streamlined pair you can take from your couch to your class. As one reviewer puts it, "So comfortable, no itchiness, nothing irritating while wearing. Crotch is a perfect length, tucks in your belly. I mean, what else could you ask for?"
4 Cropped Tank Tops
Already have a favorite sports bra? Throw on one of these ribbed tanks that come in a pack of four in various colors. They don't call it athleisure for no reason—one of 29 thousand reviewers shares how amazing it is for anything else: "Something to sleep in or wear under a sweater, etc. Very comfortable, absolutely love."
Fleece Half Zip
This cozy fleece-lined half zip makes for a great over or under layer that'll actually keep you warm. And bonus—there are zippered kangaroo pockets keeping you hands- and fuss-free.
2 Pack Thermal Compression Shirts
As one raving reviewer puts it, "These tops are fabulous. They hug the skin (stretchy) and keeps you warm. I can pull a shirt over (or pants) easily because of the smooth sheen. These are perfect for layering. It's like a thick, second skin. These sets are a great addition to anyone's wardrobe, and the price can't be beaten."
Velour Tracksuit
Haven't you heard? The early-aughts are back and we couldn't be more thrilled. Top off your workout look or just lounge around in style with this machine-washable velour set. 
This content is created and maintained by a third party, and imported onto this page to help users provide their email addresses. You may be able to find more information about this and similar content at piano.io
https://www.elle.com/fashion/shopping/g37809431/workout-clothes-amazon/