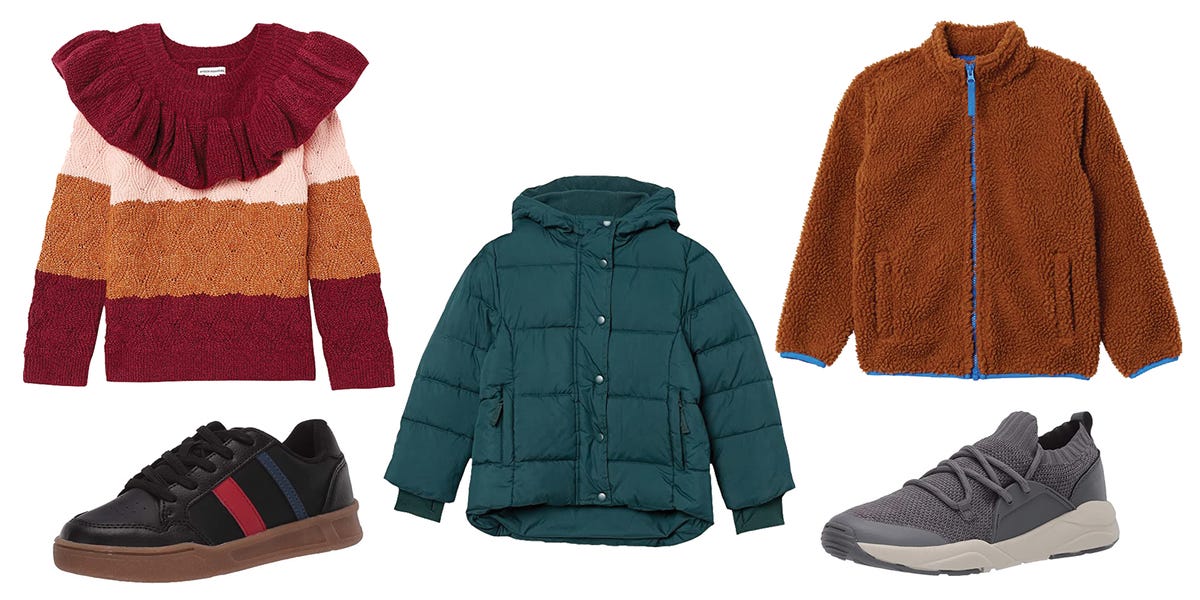 This Amazon Fashion Brand Is So, So Good for Kids
Amazon Before I had kids, I would wonder what my children's shopping MO would be.
Before I had kids, I would wonder what my children's shopping MO would be. Would I have zero problem handing over cash for the mini-me pieces from labels I personally shopped—or balk at the idea of spending on something that would be quickly outgrown, if not destroyed, by the rough-and-tumble living that is youth? Would I be thoughtful about everything I put their tiny bodies in or reach for the nearest clean thing and call it a day? Who knew!
The answer is a mixture of both, really. I love clothing and can't ignore the cuteness of a really on-point, downsized look… but I'm also practical. The early months were a wash—how important was clothing if life was just a series of diaper changes and spit-up?—but now that my daughter is two, I really enjoy shopping for things I genuinely like. I tend to focus on pieces that are simply smaller versions of stuff I'd want to wear and, when possible, unisex in color or cut (I'm into the aesthetic vibe and want to be able to reuse if we end up having a son one day).
I flirted with Amazon only the littlest bit when she was little, relying more on hand-me-downs and shower gifts, but I've been hooked on Amazon Essentials for her ever since discovering it. There's plenty of that "I'd wear that in my size!" going on, and the quality feels on par with versions that are priced $30 or so higher.
Here's some of what I bought recently, plus a few other things I'm considering adding to my cart.
1
1/4 Zip Sweater Cable Knit Pullover Sweater
A camel cable knit with a zip collar is the sort of item I'd tell anyone, at any life stage, to wear more often. Toddlers are not excluded.
2
Heavy-Weight Hooded Puffer Coat
After finding my eyes watering at the prices of a few kids' puffers, I was overjoyed to see how good Amazon's wallet-friendly version was when it arrived in the mail (there are snug cuffs at the wrist and thumbholes!).
3
Long-Sleeve Knit Thermals, 3-Pack
Basic doesn't need to mean boring. Thermals are perfect for the fall and winter, and busy prints help camouflage rogue paint or food stains.
4
Knit Fashion Sneaker
If I'm into it for me, I'm into it for kids. The knit-sneaker vibe is sportswear with a stylish touch, and it feels comfy for little ankles.
5
Polar Fleece Lined Sherpa Jacket
The teddy bear fleece with a contrasting zip is cool for all ages, and this basic version caught my eye immediately. There are tons of colors to pick from, but I loved this deep caramel.
6
Long-Sleeve 2-Piece Pajama Set
When it comes to kids' jammies, there are, truly, thousands of options. Bright, cartoon'y prints are everywhere, but this monochromatic set with a dash of neon feels upgraded.
7
Soft Touch Ruffle Sweater
Super soft, super on-trend: I already own more than a few blouses and sweaters with an oversized skirted collar so this was an obvious yes.
8
Lace-Up Sneaker
Something about gum soles and thick stripes of color speak my shoe language. This pair feels more adult than playground, which is always a win in my book.
9
Quilted Cocoon Puffer Coat
Just like I am incapable of resisting yet another cute coat, so shall my daughter be burdened. The quilting and shearling lining here are too good to skip.
10
Water-Resistant Snow Bib
If you're in an area of the country that gets snowy, you've got to address it, wardrobe-wise. Super pale blush and the not-insane price tag made this one a winner.
This content is created and maintained by a third party, and imported onto this page to help users provide their email addresses. You may be able to find more information about this and similar content at piano.io
https://www.elle.com/fashion/shopping/g38137654/amazon-essentials-kids-clothing/