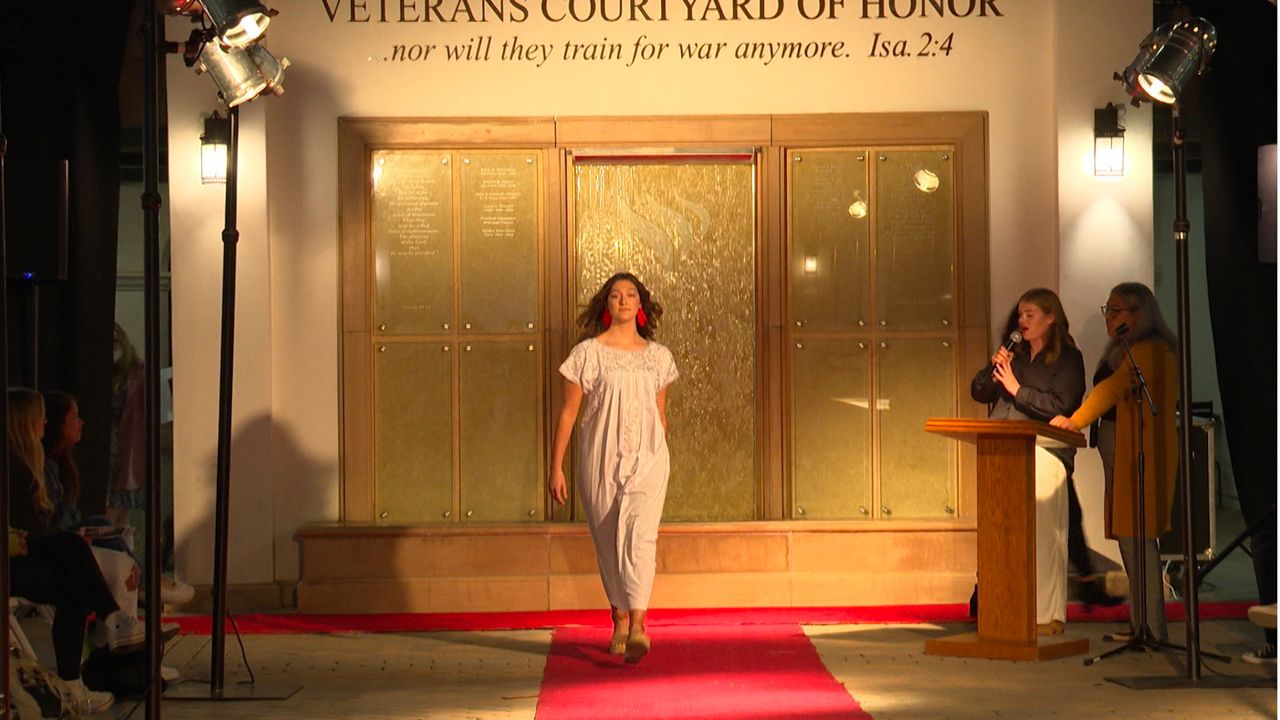 Vanguard University hosts show to fight 'fast fashion'
Table of Contents What You Need To Know Vanguard University and the Live2Free Club on
COSTA MESA, Calif. — It's been said that what you wear says something about you.
Alex Niebaum agrees.
"This is cute," said Niebaum, a psychology student at Vanguard University in Costa Mesa.
For Niebaum, fashion is a form of expression and a chance to raise awareness about the dangers of fast fashion.
"I can do something about it. By buying secondhand, you create this circular economy to where you don't need to produce clothing every season," Niebaum said. 
She is the president of Live2Free, a student group on campus that challenges young people to take a moment to research before they buy. 
"My parents taught me to always care about other people and to put others first. That's something I have in mind when I'm clothes shopping. Where is this coming from? Who made it? Were they working in a safe condition, paid a fair wage?" Niebaum said.
In California, there's a law that protects garment industry workers by combating unfair pay practices and improving working conditions. Most of the clothing we wear is made abroad. The International Labor Organization estimates that 170 million children are forced into labor. 
Live2Free is hosting its annual Fair Trade Fashion Show in October to raise awareness and tackle this issue. Vanguard students walk the runway in completed looks made possible by thrifting and ethical and sustainable retailers. The club is advised by Vanguard University Adjunct Professor Ruthi Hanchett, who says the power is in our hands, not the retailers.
"We have choices. We can choose to buy less items or we can buy better quality items and not buy into that idea that we always need something new," said Hanchett, who teaches courses in human trafficking through the campus' Global Center for Women and Justice.
Professor Hanchett says companies are getting the message from ethical shoppers. In recent years, more retailers are investing in getting Fair Trade Certified.
"It's kind of like the gold standard of the best way people are being taken care of. It means people are paid appropriately, a living wage, they have access to health care, women are encouraged in terms of leadership and no child labor is included and no slave labor," Hanchett said.
Niebaum and members of the Live2Free Club spent four months organizing the fashion show. 
"I hope they understand how easy it is to make these choices themselves, how easy it is to shop ethically and be conscious of their impact," Niebaum said.
The students believe it's possible to change the way you spend. Just start with one piece at a time. For more information, visit https://live2free.org.
https://spectrumnews1.com/ca/orange-county/education/2021/10/28/vanguard-university-hosts-show-to-fight–fast-fashion-