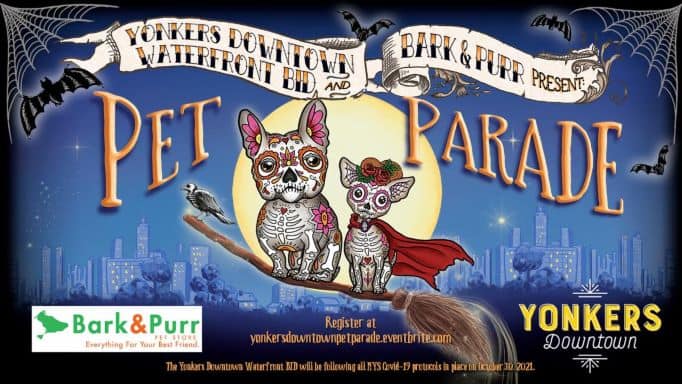 Yonkers DWBID Pet Parade & Fashion Show, & Pub Crawl Rescheduled for Nov 6
Due to weather conditions last Saturday, The Yonkers Downtown Annual PetParade & Fashion Show has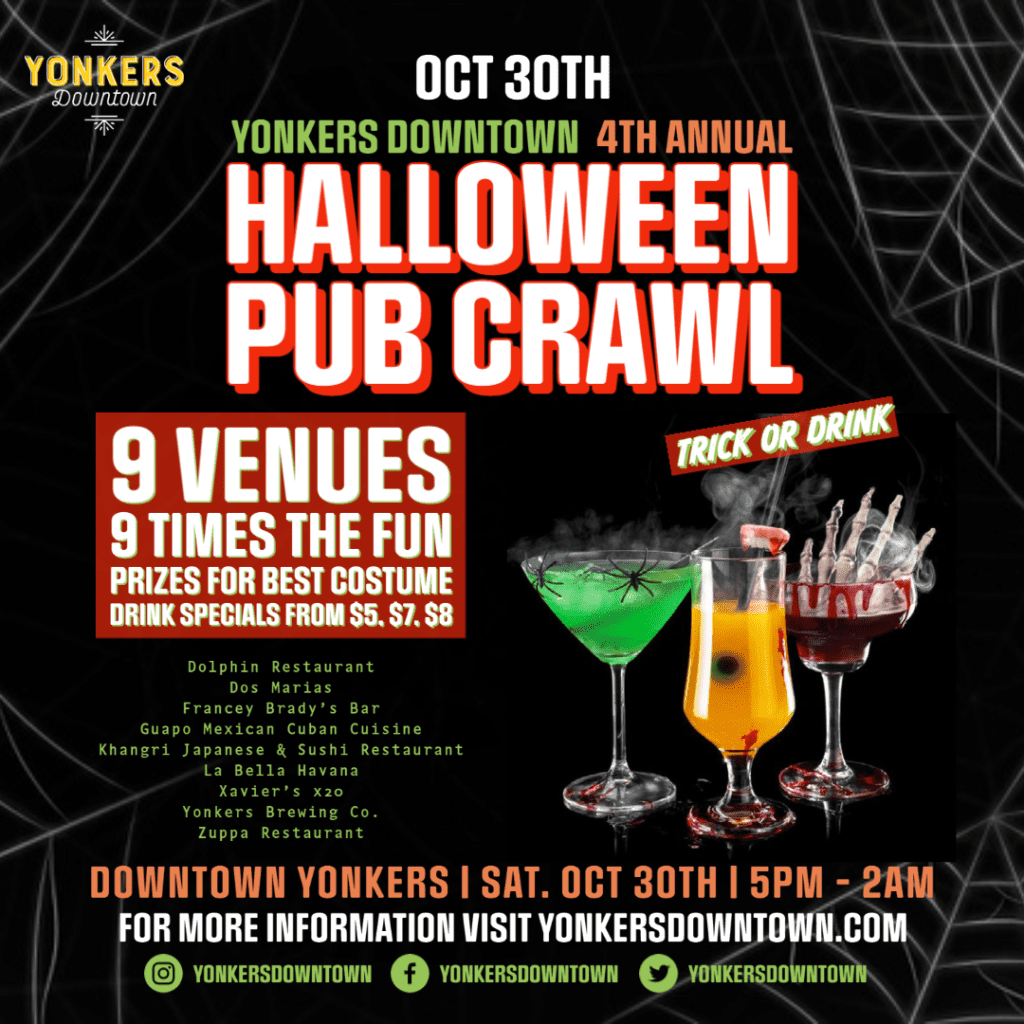 Due to weather conditions last Saturday, The Yonkers Downtown Annual Pet
Parade & Fashion Show has been rescheduled for Saturday, Nov 6th at
12pm! Pet owners can bring their furry friends in costume to the Yonkers
Waterfront Amphitheater for Halloween festivities. There will be a photo
booth for owners and pets and gift bags will be given out for all pets!
This free event is a fun, unique way to continue the Halloween spirit!
Sign-up for the event is FREE, just make sure to register prior to the
event (The registration is per pet). Those who have already signed up do
not need to re-register. Each pet can have a maximum of two people
accompanying them. Check-in will start at 12pm at the Waterfront
Amphitheater, 71 Water Grant Street (adjacent to X20 Restaurant). The
parade will start promptly at 12:15 PM and the Fashion Show/Costume
Contest will begin at 1 PM. The costume contest categories are scariest,
cutest, and most original/creative costumes.
_We hope you share the word about the rescheduled Yonkers Halloween Pet
Parade and Fashion Show! If you would like to speak with the Executive
Director of Yonkers Downtown BID, Sara Brody, about this event, I would
be happy to coordinate. Thank you for your time and consideration!_
In addition to what I shared below; the Yonkers Downtown BID just
confirmed they will be hosting their 4th Annual Halloween Pub Crawl.
This Halloween Pub Crawl, a.k.a grownup trick-or-treating will take
place on October 30th from 5pm – 2am. Participants who show up in
costume can enjoy awesome $5, $7 and $8 drink specials at 9 of Downtown
Yonkers best bars/ restaurants.
Participating Venues:
        * _Yonkers Brewing Co._
        * 92 Main St, Yonkers, NY 10701
        * _Dolphin Restaurant_
        * 1 Van Der Donck St, Yonkers, NY 10701
        * _Francey Brady's Bar_
        * 72 Main St, Yonkers, NY 10701
        * _Guapo Mexican Cuban Cuisine_
        * 10 Warburton Ave, Yonkers, NY 10701
        * _La Bella Havana_
        * 35 Main St, Yonkers, NY 10701
        * _Zuppa Restaurant_
        * 59 Main St, Yonkers, NY 10701
        * _X2O Xaviars on the Hudson_
        * 71 Water Grant St, Yonkers, NY 10701
        * _Dos Marias_
        * 200 New Main St, Yonkers, NY 10701
        * _Khangri Sushi Restaurant_
        * 22 Warburton Ave, Yonkers, NY 10701
_We hope you share the word about the Yonkers Halloween Pet Parade and
Fashion Show and Halloween Pub Crawl with your readers!_
Yonkers DWBID Pet Parade & Fashion Show, & Pub Crawl Rescheduled for Nov 6